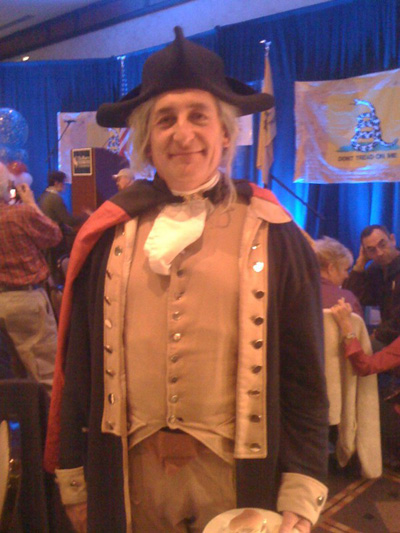 Leaders of the Tea Party Patriots, one of the nation's largest tea party umbrella groups, traveled the country (in a private jet) in the final days before the election to rally the grassroots and get out the vote. "Patriot One" landed at Washington's Dulles Airport Monday night, in time for the group to rest up before planting a Gadsen flag on the grounds of the Capitol Tuesday and hosting an election night party at the nearby Hyatt hotel. The tea party leaders picked a good spot for their soiree: the Hyatt is directly across the street from the hotel House Speaker Nanci Pelosi chose for her election night event. The contrast was pretty striking. While the tea party party had almost a 1:1 tea partier to press ratio, the Democrats apparently kicked out most of the media from their event, preferring to mourn in private. Inside the Hyatt, the tea partiers were happily cheering the Dems' demise. Debbie Dooley, one of TPP's national coordinators, told the gathered crowd, "Welcome to Nancy Pelosi's retirement party."
The event had all the trappings of the Washington establishment—$10 drinks, megatrons, swank hotel. It was decidedly lacking in star power, with local activists having their moment in the sun rather than say, Dick Morris. But there were a few highlights: "George Washington," in full Revolutionary War garb, on hand to talk liberty, pose for pictures, and give all the reporters someone to interview. Ditto for "Captain America," who's become a regular at these DC events. There was a Dartmouth student who made a tea party rap song and other patriotic singers.
The gathered tea partiers cheered the news of each new GOP victory: Marco Rubio in Florida, the defeat of Rep. Alan Grayson (D-Fla.). Occasionally they'd break into chants of "USA! USA!" or "Can you hear us now?" Most of the speakers expressed their intent to ensure that all those newly elected conservatives in Congress remain true to the cause. National coordinator Mark Meckler shouted out at one point, "Anybody committed to the movement for the long term?" To which many responded with raised fists and cheers. There was talk of a 40-year plan, indoctrination sessions for incoming freshmen in Congress, and veiled threats to candidates elected with the help of the movement (who might not stay true to tea party principles).
Kerry Scott of the Alexandria, Virginia, tea party said, "I think people are very leery" of being part of the establishment now that their candidates have won. "We're going to do everything in our power to keep the pressure on them. We don't want them to get too comfortable." Scott also suggested that the tea party might change its focus to local issues now that the election is over, out of concern that it won't be able to influence the national debate that much. I asked whether activists worried that they might have trouble keeping people motivated and involved once Congress is in Republican hands. Scott admitted that's a real concern: "I have 200 people on my email list. Only 20 show up for a meeting."
One tea partier at the victory party thought that there was one subgroup of activists who might become more engaged after the election: disabled conservatives. Hard to believe, perhaps, but there is a fairly good-sized contingent of tea party activists in that camp, and Melissa Ortiz is one of them. Co-chair of the Can-Do Conservatives—whose motto is "A hand up, not a hand out!"—Ortiz has been organizing a small army of wheelchair users like herself and other disabled folks to support the movement. She suspects that as health care reform really kicks in, and people start to see "rationing of care or lack of care all together," the normally liberal disabled community will start to get angry. "We've only just begun to fight," Ortiz said, as she sat with her service dog Lucy. She noted that it's not surprising that the disabled would be drawn to the tea party, which is all about personal responsibility and "being able to make your own choices." That, she added, is what most disabled people want: "I don't need the government to take care of me." Currently unemployed and working some freelance jobs, Ortiz is one of the few tea party activists I've met who wants a job on the Hill after the election. I suspect there will be more of them on Wednesday.
Front page photo: flickr/John Hinkle (Creative Commons).