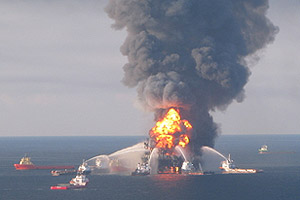 Fight disinformation:
Sign up
for the free
Mother Jones Daily
newsletter and follow the news that matters.
Transocean, the owner of the Deepwater Horizon rig that exploded in April 2010, killing 11 crew members and unleashing nearly 5 million barrels of oil on the Gulf of Mexico, is back in the news today amid public outrage that the company awarded massive bonuses to its staffers last year for the company's "safety."
Citing 2010 as the "best year in safety performance in our company's history," Transocean awarded five top executives $898,282 in bonuses for the year, according its proxy statement. Colin Barr summed it up pretty well over at Fortune: "It seems like it should be hard to qualify for a safety-related bonus in a year in which one of your rigs blows up, causing deaths and dozens of injuries." You don't say!
After getting some well-deserved criticism for this, the company admitted that it "may have been insensitive" and acknowledged that the company "continues to mourn" those lost on the Deepwater Horizon. The incident is a good reminder of the fact that, while BP got much of the scorn in the wake of the Gulf disaster, Transocean was also deeply involved—and in the days after the explosion, sought to evade responsibility.
Following the latest news on Transocean, a pair of House Democrats asked investigators to look into whether the company's decisions about shifts and schedules for workers may have contributed to the disaster. Reps. Henry Waxman (D-Calif.) and Diana DeGette (D-Calif.) sent letters on Monday to the Chemical Safety Board and the Bureau of Ocean Energy Management, Regulation, and Enforcement (BOEMRE) noting that, according to the Energy and Commerce Committee's investigation of last year's accident, Transocean extended the shifts of workers on the rig just months before:
Documents provided to the Committee indicate that the schedule shifted from a 14-day-on-the-rig/14-day-off-the-rig to a 21-day-on-the-rig/21-day-off-the-rig pattern. According to Transocean's lawyers, this was partially a cost-saving measure. Lloyd's Register, an independent assessor, conducted a survey of workers aboard the rig and found that this change was having a negative impact on the workers.
According to the papers filed with the committee, the move saved Transocean approximately $200,000 per rig each year, or nearly $2.5 million total annually. But the independent assessor found that the extended shifts had a negative impact on workers, with some complaining of "fatigue issues." The letter also notes that six of the eleven employees who died that day were on day 20 of the 21-day shift, while a seventh was on day 19.
All of this, of course, raises questions about just how safe Transocean really was—and how much they may have been at fault in the accident.