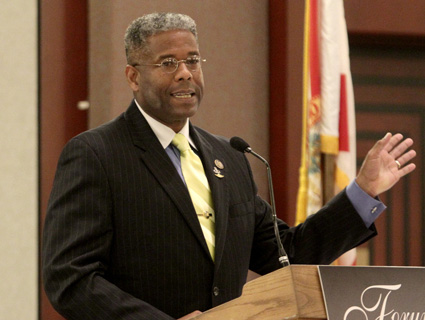 Fight disinformation:
Sign up
for the free
Mother Jones Daily
newsletter and follow the news that matters.
If Rep. Michele Bachmann (R-Minn.) has a successor amid the ranks of freshman Republicans, it may well be Rep. Allen West (R-Fla.). Since his election in the GOP wave last year, the Floridian has fast become the tea party right's neweest firebrand. Just days after being sworn in, West declared that Rep. Keith Ellison (D-Minn.), the only Muslim in Congress, "really does represent the antithesis of the principles on which this country was established" due to his religion. He later accused President Obama of having been a "low-level socialist agitator" who used "Marxist, demagogic rhetoric" to further his agenda in Washington.
West's incendiary statements and love for the spotlight have made him a Fox News darling. Glenn Beck's a particular fan—he even says he wants to draft the Florida Republican to run for president. In February, West was chosen to keynote the Conservative Political Action Conference—a high-profile conservative confab—and he was quick to join Bachmann's new tea party caucus in the House. But West's greatest strengths as a rising tea party star also leave him vulnerable in his bid for re-election next year in a South Florida district that went blue in the last three presidential elections. His opponents are already organizing to make sure West is a one-term congressman.
The Democratic frontrunner for West's seat in Florida's 22nd District quickly emerged this spring, when Lois Frankel declared her candidacy. A former mayor of West Palm Beach and the first woman to become minority leader of the Florida House, Frankel paints West as a right-wing attention hog. "Allen West is the tea party…I don't mean to be trite, but he's the poster child," she told Mother Jones. "We've got serious problems, and [voters] don't need a congressman making the rounds on Fox News."
Patrick Murphy, a young Fort Lauderdale businessman who's declared his candidacy, has lumped West in with Bachmann and Sarah Palin. In one anti-West campaign ad, Murphy portrays him in a witch's hat, describing him as "The Wicked Rep of the West!" and declares, "Palin and Bachmann and Wackos, Oh My!" Another Murphy ad depicts West, Bachmann, and Palin in tall, striped hats, declaring "This tea party has more than one mad hatter…join the cause to help stop Allen West."
West's opponents have also fixated on his vocal support for Wisconsin GOP Rep. Paul Ryan's drastic plan to overhaul Medicare. While Democrats across the country have seized on the entitlement program as their newest political weapon against the GOP, the issue could especially resonate with West's constituents, given the high percentage of senior citizens in his district. West has already gotten pushback from constituents concerned about the GOP's support for entitlement cuts in a series of town-hall meetings he's held in recent months.
Daniel Smith, a political science professor at the University of Florida, points out that West's support for drastic entitlement cuts could prompt him to lose support even among "more affluent supporters" who are more inclined to vote Republican. West's stance on the Ryan plan "probably won't fit well in that district," he says. "Ross Perot certainly found that out in 1992 when he proposed [Medicare cuts]. Suddenly, all his support vanished."
Republican leaders in Washington are well aware that West's seat is in jeopardy—and are scrambling to protect him. The National Republican Congressional Committee has added West to a list of vulnerable first-term incumbents who need extra support, attempting to build a "firewall" around the congressman by bolstering his early campaign infrastructure and pledging to inject extra money into the race.
But while Democrats have been quick to go on the offensive against West, blasting him as an extremist, they also acknowledge that solely relying on aggressive, blustering attacks that denigrate him as a right-wing Republican could backfire, as well. Steve Schale, a Florida Democratic strategist, argues that Rep. Alan Grayson was unseated last year for being the Democratic mirror-image of West in a similarly moderate district. Like West, Grayson was a media-loving, outspoken, often-polarizing figure who was swept into office in 2008 while his party enjoyed a wave of support across the country. But Grayson's proclivity for making eyebrow-raising statements also made it tough for him to hold on in a more moderate district. "If you're firebrand leader and seen as a rank partisan, it's hard to survive," Schale concludes.
Though she's routinely been described as a "fiery liberal"—and has already received the endorsement of EMILY's List, a major pro-choice Democratic group—Frankel has already taken steps to avoid being cast as a pure ideologue. Out of the gate, her primary focus has been not on Medicare but on jobs and economic recovery. "Jobs, jobs, jobs—that's the name of the game here, what West has not been talking about," Frankel says, emphasizing her work with business leaders in West Palm Beach during her term as mayor.
In the end, Democrats are hoping that the anti-incumbent tide that swept right-wing Republicans into power will work in their favor when voters realize exactly who they voted into office last year. Concludes Frankel, "Any Republican would have won that seat in the last election, and Mr. West does represent the most extreme candidate they could find."