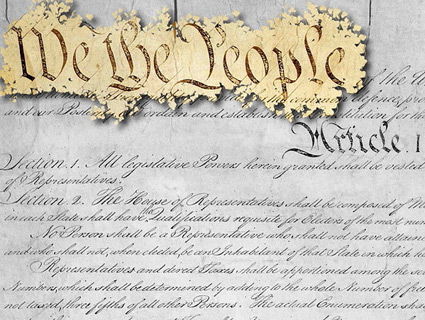 Fight disinformation:
Sign up
for the free
Mother Jones Daily
newsletter and follow the news that matters.
Earlier this year, tea party groups sparked a bit of an uproar when they announced plans to pressure public schools into teaching their version of constitutional history during the federally mandated Constitution week that began September 17. Led by a large umbrella group, Tea Party Patriots, activists planned to pressure local school officials into using controversial curriculum developed by the National Center for Constitutional Studies (NCCS). The NCCS was founded by Glen Beck's favorite pseudo-historian, W. Cleon Skousen, who argued in his book The 5,000 Year Leap that the creation of the US was a divine miracle. When the news got out, liberal legal groups expressed outrage and urged schools to reject the plan.
As it turns out, many schools weren't that keen on having tea partiers in their midst. There have been only scattered reports of the Tea Party Patriots successfully getting their curriculum into schools, but there have also been a number of complaints from educators who say tea party activists have been trying to intimidate them. In northern California's Nevada County, a hot-bed of tea party activism, tea partiers were giving out their materials and surveying local schools to ensure compliance with the federal mandate to teach the Constitution. One educator told the local paper that she didn't appreciate the meddling. The Union reported last week:
When Tea Party Patriots starting demanding proof of lesson plans, suggesting instructional materials and even informing administrators that the media would be notified about their level of compliance, some area administrators felt attacked.
"It seems that we aren't being believed for some reason," said Debra Sandoval, superintendent of Pleasant Valley and Ready Springs School District, which was singled out by local Tea Party Patriots as being the only district that did not respond to their inquiries.
Then, this week, two districts in Florida rejected donations of pocket Constitutions distributed by local tea party and Glenn-Beck-associated 9/12 groups. The booklets were stamped with tea party information and included some language that the district found either too religious or too political to make them suitable for public schools. Many of the booklets came from NCCS. And the St. Petersburg Times reported that while the booklets contained things like the Declaration of Independence and the Gettysburg Address, the foreword stated, "Unless Americans remember and preserve our rich heritage of liberty, a new Dark Age of tyranny could lock the majority of mankind into the harsh chains of totalitarian slavery." Other donated Constitutions came with propaganda from the libertarian Cato Institute, which claimed that the Constitution has been misinterpreted, leading to "a government that's effectively unlimited … and increasingly unaffordable."
The school districts said no thanks and send the booklets back. As one of the superintendents told the Times, "When you add all of those things together, it's not just a simple Constitution. You've got to be real careful when you're passing out information to the kids."