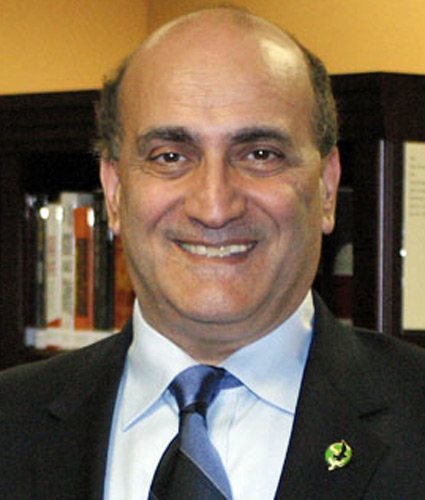 Fight disinformation:
Sign up
for the free
Mother Jones Daily
newsletter and follow the news that matters.
Mario Loyola's National Review op-ed attacking my piece on Mitt Romney's Middle East adviser Walid Phares takes several hundred words to contest exactly one fact in the entire story. He spends the rest of the time griping that Phares' involvement with the Lebanese Forces militia wasn't portrayed more favorably.
Loyola does not dispute that Phares worked with the LF training militia-men in the ideology of the organization in the early 1980s. He doesn't contest that this ideology involved a narrative of civilizational conflict between Islam and the West. He does not deny that Phares was a top adviser to former Lebanese warlord turned anti-Syrian politician Samir Geagea, or that Phares became a member of the LF executive committee days after Geagea ousted rival warlord Elie Hobeika in a battle that, according to a 1989 Los Angeles Times article, killed more than 200 people in mostly Christian East Beirut. Loyola does not contradict the recollections of Phares' colleague Toni Nissi that Geagea subsequently made Phares "responsible for training the lead officers in the ideology of the Lebanese Forces." He merely argues that Phares had "no official position with the Lebanese Forces until 1986," disproving a claim the article did not make. He then spends a couple of paragraphs absolving Phares of any personal involvement in the Sabra and Shatila massacre (again disproving an allegation Mother Jones not only didn't make, but literally stated wasn't the case) as though killing civilians wasn't a constant aspect of the war from beginning to end.
Loyola insists that Phares' long history with the LF is of no concern because he was part of an organization "committed to resisting Syria's and Hezbollah's domination of Lebanon (fully in line with longstanding U.S. policy)." Shorter Loyola: It doesn't matter if an organization committed atrocities, as long as it was on the right side. I'm sure the Arab and Muslim countries the US has to deal with will completely understand the distinction should Phares be placed in a high-level position in a future Republican administration.
Loyola also makes this bizarre point:
The Lebanese Forces had become the de facto army and political organization of the entire Christian community in Lebanon. It is one thing to link a specific person to a specific massacre, but to discredit someone linked to the Lebanese Forces because of its links to the Sabra and Shatila massacre is to discredit virtually all Christian Lebanese who were prominent during the conflict, even those who rose to the fore years after the massacres. The real target of such an attack is the Christian Lebanese community itself. And let's note the Left's rank double standard when it comes to this sort of thing. The Left habitually insists that the United States and Israel recognize the legitimacy of the Palestinians' elected "representatives," even if it means legitimizing people who have actually murdered innocent civilians.
It's true that many Lebanese politicians have strong links to one side or the other, and as the Center for a New American Security's Andrew Exum told me, "virtually all parties to the conflict were involved in some sort of massacre and some sort of atrocity." But for Loyola only one sides' atrocities actually count. Loyola criticizes a double standard ("the left" saying Hamas should be recognized as the elected government of Gaza, but Lebanese Christian politicians shouldn't be) but then violates that standard himself, arguing that former Christian militia leaders who "actually murdered innocent civilians" should be recognized as legitimate, but Hamas shouldn't be. This is an argument that has no bearing on the piece. Whom Christians in Lebanon or Palestinians in Gaza elect is a completely different issue from whether someone who played the role that Phares did in the LF is an appropriate choice to advise a potential US president.
The only fact in the piece Loyola disputes is that Phares believed in creating a separate national home for Christians in Lebanon. He writes: "Rather than take the trouble to peruse one of Phares's many books, Serwer quotes people who dimly remember what they think they heard Phares say 30 years ago." Loyola knows that many of Phares' older publications are out of print and were never translated into English, so the piece relied on the recollections of people who knew Phares at the time. Loyola writes that I "dredged up" author Régina Sneifer for the purpose of substantiating this claim. That is silly—Sneifer is a published author who has written extensively about the Lebanese Civil War, whose books describe Phares' role in the LF years before it became a political issue here. Phares, for his part, refused to answer a single question for the article, including those related to this issue.
By the way, several other former LF members I interviewed backed Sneifer up. She was quoted because she agreed to speak on the record and because she offered the best first person account. Phares' subsequent writings—his advocacy for continued Israeli support of the torturing, child-soldier conscripting, civilian-displacing South Lebanon Army in order to establish a "Christian enclave" run by a "nationalist group" that would act as "a potential ally against the advance of the northern Arabo-Islamic threat against Israel"—are consistent with that perspective.
Loyola also tries to dismiss the paranoia of Phares' worldview, complaining that "another source assures Mother Jones that Phares 'is telling people to suspect all Muslims [sic] Americans as something other than how they portray themselves.' Notice that Serwer couldn't find a quote from Phares actually saying anything like that." Except that I did, reporting that Phares had warned of "cold war infiltration" and the idea that "[a]lmost all mosques, educational centers, and socioeconomic institutions" have fallen into the hands of what Phares claims in his book are "Salafi and jihadi organizations."
Also in Phares' book Future Jihad, which Loyola describes as an "indispensable contribution," Phares argues that prior to 9/11, American foreign policy was essentially under the control of Islamic fundamentalists. "[T]he Wahabi influence was so profound and subtle that it made its arms within the State Department, CIA, and information agencies think that they, not the Wahabis, were in control of policy." It's hard to find a foreign policy decision Phares disapproves of that isn't the result of covert Islamist infiltration, from US policy during the Soviet invasion of Afghanistan to Bill Clinton's intervention in the Balkans to support for ending Lebanon's civil war along terms favorable to Syria. Here's Phares' creative historical interpretation of the 1999 NATO intervention in Kosovo: "[A]n all-out campaign by al-Qaeda destroyed the Serbian Army in Kosovo and led to regime change in Serbia." This theory is widely accepted among the anti-Muslim right Loyola says Phares has nothing to do with, but even genocidal former Serbian leader Slobodan Milosevic wasn't willing to go that far, and he was trying to defend himself from charges of crimes against humanity!
In the tone of Phares' work, weaving all he dislikes into one big Islamofascist conspiracy, Loyola accuses me of being part of the "Jihad against Walid Phares," alongside Nihad Awad of the Council on American-Islamic Relations, whom he considers a "longtime supporter of Hamas." I'll be sure to brag about my honorary membership in the Muslim Brotherhood next time I'm at shul.