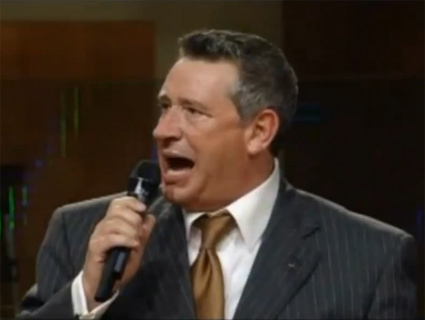 Fight disinformation:
Sign up
for the free
Mother Jones Daily
newsletter and follow the news that matters.
At the Values Voters Summit earlier this month, Rick Perry and his sputtering campaign got plenty of attention—but not for the reasons the candidate would have liked. It was the Texas governor's association with a controversial religious leader that made headlines, after Robert Jeffress, a Dallas pastor who introduced (and endorsed) Perry at the event, said that conservative voters should reject Mitt Romney because he belongs to a "cult" (the Mormon church).
It wasn't the first time Perry shared a staged with a controversial religious figure. Perry has long cultivated ties to evangelical leaders who hold extreme views, including Rod Parsley, an Ohio megachurch pastor whose incendiary comments about Islam—he said it must be "destroyed"—forced Sen. John McCain (R-Ariz.) to disavow Parsley's endorsement during the 2008 presidential race.
The relationship between Perry and Parsley began in 2005, when Perry held a special signing ceremony for two new measures of importance to religious conservatives: a law that required parental consent for teenage girls to obtain abortions, and a constitutional amendment, which was up for a vote that November, to ban gay marriage. Perry booked a Fort Worth Christian school for the occasion and invited social conservative leaders—including Parsley—to attend the event.
About 600 Christian conservative activists showed up; the New York Times reported that the event "resembled a pep rally." The Perry reelection campaign sent an email blast to supporters urging them to "fill this location with pro-family Christian friends who can celebrate with us."
Parsley took the podium before Perry, sermonizing on the evils of homosexuality. "Only 1 percent of the homosexual population in America will die of old age," he explained. "The average life expectancy for a homosexual in the United States of America is 43 years of age. A lesbian can only expect to live to be 45 years of age. Homosexuals represent 2 percent of the population, yet today they're carrying 60 percent of the known cases of syphilis."
As the LGBT weekly Dallas Voice reported, those statistics didn't come out of thin air. They were plucked from a debunked report by the conservative Christian Family Policy Institute. (The report's author, Paul Cameron, had been kicked out of the American Psychological Association more than a decade earlier for his persistent distortion of research.)
With Perry looking on, Parsley warned that "we are not to sacrifice our children on the altar of sexual lust of a few," and that gay sex was a "veritable breeding ground of disease"; then he praised the governor for his tireless work battling the gay agenda.
Perry allowed Parsley's inflammatory remarks to pass without comment. When the Texas governor later came under criticism from church-state watchdog groups for appearing alongside Parsley and other controversial speakers, Perry and his aides claims these complaints were part of a liberal campaign to ban religion from the public square.
Later that year, in an effort to build momentum for his reelection bid, Perry-friendly evangelical leaders—including popular pseudo-historian David Barton—convened a series of six forums between the governor and prominent pastors, called the Texas Restoration Project. The project was modeled after Restoration Ohio, a program devised in 2004 by Parsley and others to mobilize Christian voters for the presidential election. (That project contributed to George W. Bush's 2004 win in Ohio.)
During an impassioned address at a Restoration Project forum in August 2005, Parsley switched his focus from the gay agenda to Islam. "If you want to really get in trouble, read the largest chapter of the book and start quoting it," he said, referring to his 2005 book Silent No More. "We tell you the truth. It's on Islam. It's called 'The Deception of Allah.'"
In his book, Parsley wrote that Christopher Columbus had sailed to the New World in part to combat the Islamic menace by exploring trade routes that bypassed Muslim-controlled areas, and that the United States had been founded to counter radical Islam. As he put it, "The fact is that America was founded, in part, with the intention of seeing this false religion destroyed, and I believe September 11, 2001, was a generational call to arms that we can no longer ignore."
(Parsley, like Jeffress, has taken shots at Mormonism. Referring to the church's view that black people were the offspring of the devil, which was renounced in 1978, Parsley has said: "So when the Mormon missionaries come walking through your neighborhood, you can be as wise as a serpent and as harmless as a dove and say, 'Get off my porch, you racist.'")
Parsley's anti-Islam rhetoric caused McCain to publicly repudiate the pastor in 2008, after the pair had appeared together at a campaign event. But Perry did not weigh in on Parsley's anti-Islam comments or repudiate him.
Parsley was not the only Restoration Project speaker whose rhetoric sparked controversy. In 2005, another pastor, Dwight McKissic, preceded Perry at the podium, declaring that Hurricane Katrina had been God's way of punishing New Orleans for its large gay community. Perry spokesman Robert Black later told the Austin American-Statesman that, though the governor did not agree with McKissic's remarks, "far be it for the governor to try to divine the will of the Almighty."
Questioned about his controversial allies, Perry has employed a shrug-of-the-shoulders approach. "Just because you endorse me doesn't mean I endorse everything that you say or do," he told the Dallas Morning-News in July, ahead of his daylong prayer rally at an NFL stadium in Houston, where Perry shared the stage with controversial figures like John Hagee (who, like McKissic, pinned Hurricane Katrina on homosexuality). Similarly, when pressed on Jeffress' comments, he told George Stephanopolous: "I have a lot of people that endorse me, but I don't endorse what they say or what they believe, for that matter. I can't control those individuals who go out and say something who may be for me in a race. This is about freedom of speech, freedom of religion. Our Founding Fathers were pretty wise in creating those rights."
Can Perry keep playing this game, associating with religious extremists and then sidestepping controversies about their remarks? Even as his campaign claimed it had nothing to do with Jeffress, David Lane, a top Texas evangelical leader tasked by the Perry team with drumming up social-conservative support for the governor's presidential run, was privately praising Jeffress for his boldness, noting in an email obtained by the Daily Beast that "juxtaposing traditional Christianity to the false god of Mormonism, is very important in the larger scheme of things."
With Jeffress, Perry seems to be sticking with a strategy that's never failed him. But this time, floundering in the polls and facing a Republican opponent willing to play hardball, it might just blow up in his face.