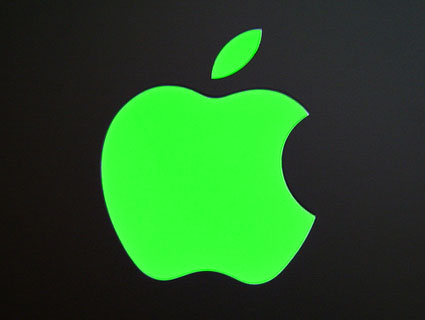 Last Thursday, Apple announced that it would meet the energy demands of its massive Maiden, North Carolina, data center—one of the sites providing virtual space for our ever-increasing piles of digital detritus—using entirely renewable sources by the end of 2012. The announcement came one month after Greenpeace released a damning report titled "How Clean Is Your Cloud?" targeting Apple's Maiden facility in particular for its less-than-clean sourcing from utility giant Duke Energy, which produces 60 percent of its electricity in North Carolina from coal. (Watch the Climate Desk's video about the new data center here.)
The "cloud" is slated to increase in size roughly 50-fold by 2020, a fact that Greenpeace argues makes it imperative that IT giants like Google, Microsoft, Amazon, and Apple start greening their energy, and soon. Each of these companies has numerous data centers busily converting tons of energy for our data needs, and many are located in regions where they can buy their energy on the cheap. (Check out the map after the jump to see if there's one near you). With Thursday's announcement, Apple joins the two other companies in what Greenpeace has called Duke's "dirty data triangle"—Google and Facebook—in attempting to clean up its image.
With an impressive 100-acre solar field on site (the largest privately owned solar facility in America) and a LEED Platinum certification, the new Maiden site was already designed to be relatively energy efficient. But Thursday's announcement unveiled another 100-acre solar field to the mix, slated to be built just a few miles away. The solar power, combined with a very expensive hydrogen fuel cell (potentially powered by hog waste from North Carolina's factory farms), will meet an impressive 60 percent of the energy demands for Apple's data center by the end of this year.
How exactly Apple will procure the other 40 percent of the energy the site will need, however, is much less clear. The company says it will do this by buying renewable energy credits with the help of a nonprofit called North Carolina Green Power and by directly purchasing clean energy. Apple was pretty vague on the details of this arrangement; a spokeswoman would not confirm whether this would mean cutting ties altogether with Duke, which, by its own estimates, will only produce a meager 3 percent of its energy from renewable sources by 2030.
In other words, despite heavy accolades following the announcement, it's not certain that coal-sourced electricity from Duke's grid won't still be partially powering Apple's cloud come late 2012. "Ultimately, they need to be demanding better from Duke, asking them to clean up their supply chain," says Greenpeace senior IT analyst Gary Cook. "They still have a lot of hard work to do if they want to make the legitimate claim that the iCloud data center in Maiden is coal-free or 100 percent renewable."
Still, activists are pleased with the direction Apple is headed in and satisfied with the pressure this will in turn exert on the utilities. "I think it's a step in the right direction," says Beth Henry, a grassroots activist in North Carolina. "It's been really discouraging trying to push Duke Energy, but I feel much better about how we've been able to push these tech companies. They're Duke's biggest customers, and if we can get Duke's biggest customers on our side, it'll be a huge help."
Check out our map of the 52 largest data centers in the United States, owned by companies like Google, Amazon, Apple, and Twitter. Mouse over a point on the map to see who owns the plant, and how reliant on coal it is, according to Greenpeace estimates. (Some data centers are clustered close together; zoom in on a particular area to see each one in more detail.)
View Data Center Coal Map in a full screen map