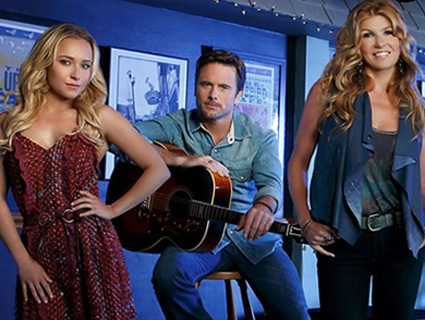 Fight disinformation:
Sign up
for the free
Mother Jones Daily
newsletter and follow the news that matters.
Country songs, dysfunctional families, Southern accents, sex, and big-city politics.
That could be the elevator pitch for Nashville, a nighttime soap opera debuting this Wednesday (10 p.m. Eastern) on ABC. The show jumps right into the Tennessee-fried swagger and sleaze in its first hour. The pilot, directed by political documentarian R.J. Cutler and penned by Thelma & Louise screenwriter Callie Khouri, introduces the swelling feud between 40-something music icon Rayna James (played by the fantastic Connie Britton), and 20-something country-pop seductress Juliette Barnes (Hayden Panettiere, returning to television).
The two singers are on the same record label, with Rayna as a Maria McKee/Dolly Parton-type figure and Juliette as Taylor Swift, if Taylor Swift were pure evil and Auto-Tuned into oblivion. Rayna's record sales are dwindling; Juliette's are booming. Rayna denounces Juliette as "adolescent crap," even as Juliette takes aim at Rayna's sagging popularity and sagging physique. She's itching to steal away Rayna's songwriting and musical collaborators, and isn't afraid to use lust to do it—particularly with Rayna's hunkish songwriter/ex-lover Deacon, played by improv comedian Chip Esten. Rayna is saddled by a failing marriage and major-league daddy issues, and Juliette's a bed-hopper with a money-grubbing junkie for a mother. Meanwhile, Rayna's father, Lamar Wyatt (Powers Boothe, one of America's leading growl-voiced actors, who sustains his streak as being all that is man), is using his right-wing kingmaker abilities to make Rayna's out-of-work husband Teddy (Eric Close) Nashville's next mayor. (It just so happens that Teddy's opponent is a close and liberal pal of Rayna's…)
Did you get all that? (There are also seemingly dozens of other romantic or rags-to-riches subplots floating around Nashville's pilot episode.) The series is on track to be one convoluted maelstrom of pre-bedtime soap. But its self-aware shamelessness is what makes it one of the most intriguing and enjoyable premieres of the fall season.
The trashiness of the tension generated by the two leads is by itself an engagingly frivolous affair, wedding the stage rivalry of NBC's Broadway-based Smash with a generous slosh O.C.-like plot hooks. Britton, who has a near-spotless track record in TV (her work on Spin City, season five of 24, Friday Night Lights, and the first season of American Horror Story), is persuasive and fun (she's been beefing up her vocal chops with T-Bone Burnett for her role). Panettiere—who's taking a break from a film career full of franchise sequels and glorifying teenage drunk-driving—holds her own against Britton and successfully straddles the line between lonely soul and repugnant diva.
Both demonstrate fine-enough voices in what is, so far, a sountrack of passable country-western songs written specifically for the show. Luckily, the pilot does feature one solid tune: The engrossing ballad "If I Didn't Know Better" (composed by real-life Nashville duo The Civil Wars and sung by supporting actors Sam Palladio and Clare Bowen). You can hear an excerpt of it in the Nashville promo below, starting at the 2:08 mark. (Future Season One episodes will include new songs penned by heavy hitters like Lucinda Williams and Elvis Costello.)
Granted, this is not Robert Altman's Nashville. But for its inaugural hour, the ABC series is moderately ambitious, if not highbrow, grown-up entertainment. Here's to hoping it rewards loyal viewership.
Click here for more music features, and here for more TV and movie features from Mother Jones.
To read more of Asawin's reviews, click here. And to listen to the weekly movie and pop-culture podcast he cohosts with ThinkProgress critic Alyssa Rosenberg, click here.