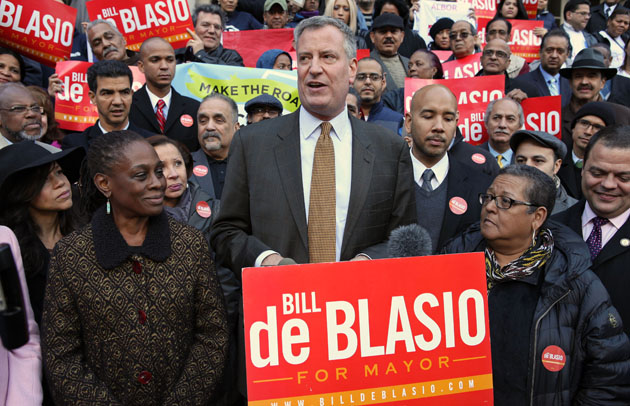 Fight disinformation:
Sign up
for the free
Mother Jones Daily
newsletter and follow the news that matters.
Come Tuesday night, Bill de Blasio will likely be the first Democratic mayor-elect of New York City in two decades. De Blasio is expected to crush his Republican rival Joe Lhota. Most national attention has focused on the implications of de Blasio's win for the future of big-city liberalism, contrasting the humble Park Slope public advocate with Wall Street-friendly billionaire Michael Bloomberg. The city's rich denizens are supposedly quivering with fear that the new Democratic mayor will hit them with a small tax increase to fund universal pre-K, though Gov. Andrew Cuomo is poised to squash any tax hikes from NYC.
Here are several fun facts about de Blasio that you might have missed amid the class warfare.
He was born Warren Wilhelm Jr. De Blasio has a fraught relationship with his deceased father. A navy vet who lost his left leg in World War II, Warren Wilhelm fell prey to McCarthyism in the 1950s. His career as an economist at the Commerce Department derailed when he and his wife were questioned about their views on communism. Wilhelm Sr. later became an alcoholic and de Blasio's parents divorced. "The pain he caused people, even if he didn't mean to, just so many people were badly affected," de Blasio said in an interview with The New York Times. "I think I really was angered by that." By the end of high school the he had ditched his given name and opted for his childhood nickname Bill and his mother's maiden name.
He worked on Hillary Clinton's 2000 Senate campaign. De Blasio managed Hillary Clinton's first run for office, but it ended poorly as the Clintons came to view him as weak and indecisive. Longtime Clinton pal Patti Solis Doyle was brought in from Washington to spearhead the final months of the campaign. Per The New York Times:
Despite having the title, Mr. de Blasio hardly fit the profile of a traditional campaign manager.
While he had a say on all sorts of matters, including finance and personnel, he did not have signoff power on many key issues, and did not enjoy the same access to Mrs. Clinton as other advisers, according to more than two dozen people involved in the race. Then still the first lady, she often relied on a team of White House aides she had known for years.
It doesn't seem like there are too many hurt feelings, though. Both Hillary and Bill endorsed de Blasio, but not until he'd already secured the Democratic nomination. Hillary also headlined a million-dollar fundraiser for de Blasio in late October.
His was a lefty activist in his 20s. De Blasio got his start in progressive politics by supporting the Sandinistas in Nicaragua during the 1980s:
Mr. de Blasio became an ardent supporter of the Nicaraguan revolutionaries. He helped raise funds for the Sandinistas in New York and subscribed to the party's newspaper, Barricada, or Barricade. When he was asked at a meeting in 1990 about his goals for society, he said he was an advocate of "democratic socialism."
He worked as a political organizer at the Quixote Center in Maryland for his first job out of grad school, soliciting donations to send to Nicaragua.
He worked out at his local YMCA during the campaign. Hard to imagine Bloomberg working up a sweat at the local gym. From New York magazine:
If I needed any further indication that the city is on the verge of a radical change in mayoral style from Bloomberg, who seems as if he were born in a pin-striped suit, there's the 52-year-old De Blasio himself: He's just back from his daily workout at the 9th Street Y and wearing a frayed, sweat-soaked blue T-shirt and baggy gray sweatpants.
He was evicted from his first New York apartment. He moved to SoHo in 1983 but couldn't stay there since the apartment was an illegal sublet. Perhaps that experience will make him more sympathetic to those city residents who lack affordable housing than New York's current mayor.
He's not a Yankees fan. In fact, he roots for the Bronx Bombers' despised rival, the Boston Red Sox. De Blasio must be feeling confident heading into the election, since he couldn't help himself from bragging about the Red Sox's World Series success, even when he campaigned in the Bronx.