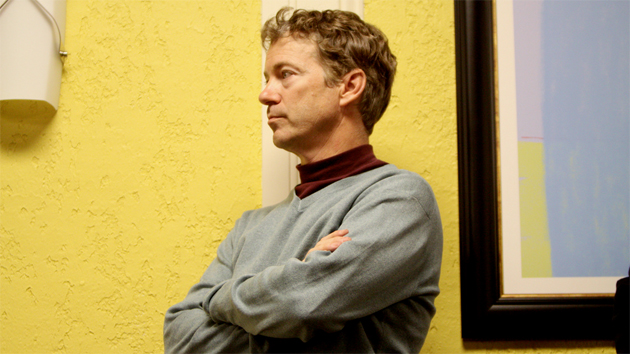 Fight disinformation:
Sign up
for the free
Mother Jones Daily
newsletter and follow the news that matters.
As the intra-party feud between the Cheney/neocon crew of the GOP and Sen. Rand Paul (R-Ky.) and his fellow intervention skeptics continues, here's another dicey matter for the warring parties to battle over: torture. The Cheney crowd fervently defends the Bush administration's use of harsh interrogation techniques, such as waterboarding, and fiercely rejects referring to these tactics as torture. But in a 2009 interview posted on YouTube, Rand Paul denounced such practices as torture and said, "Bush had given these orders that allowed torture to occur." Paul, though, noted that he was not in favor of prosecuting Bush or former vice president Dick Cheney, comparing the question of whether to put them on trial for torture to the case of President Gerald Ford pardoning the disgraced former President Richard Nixon. And in another 2009 interview, Paul called on the GOP to disassociate itself from Cheney because the ex-veep was defending his administration's use of torture.
The Cheney-Paul clash, reflecting the sharp divide within the GOP between hawks and those who question the party's traditional support of aggressive military intervention, has intensified in recent weeks. Speaking at a private meeting of Republican funders and activists in Las Vegas on March 29, Cheney warned that there was "an increasing strain of isolationism" within the GOP, and he slammed the less hawkish members of his party. He didn't name names, but the message was clear: He meant Rand Paul, among others. (At that gathering, Cheney also approvingly talked about bombing Iran.) And several days later, after Mother Jones revealed that in 2008 and 2009 Paul had accused Cheney of exploiting 9/11 to start the Iraq war to benefit Halliburton, the military contractor where Cheney had once been CEO, the former vice president's allies attacked Paul. His daughter, Liz Cheney, said, "It's not surprising since Senator Paul often seems to get his foreign policy talking points from Rachel Maddow." John Bolton, a hawk's hawk who served as UN ambassador during the Bush-Cheney administration, emailed a conservative columnist, "Senator Paul should repudiate his remarks and apologize to Vice President Cheney."
With the Senate intelligence committee requesting that the White House declassify portions of the committee's 6300-page report that concludes that the CIA's use of harsh interrogation tactics was ineffective and improper—and with the intelligence committee and the CIA locked in an unprecedented public spat over charges that each spied on the other—the debate over torture has re-ignited, and Cheney's allies have rushed to the parapet. Liz Cheney (on Fox News, of course) declared that waterboarding had worked "and certainly I hope that future presidents would make the decision again." Marc Thiessen, who was a speechwriter in the Bush-Cheney White House, accused Sen. Dianne Feinstein (D-Calif.), the chair of the Senate intelligence committee, of cherry-picking evidence to purposefully produce a "one-sided rewriting of history."
Rand Paul has not yet fully jumped into this fiery fray (though he did praise Feinstein when he recently gave a speech in Berkeley, California). But when he was at the start of his Senate campaign in May 2009, he appeared on the Antiwar Radio show hosted by Scott Horton, who in 2004 was a foreign policy adviser to the Libertarian Party's presidential candidate. During the interview, Paul repeatedly called the interrogation techniques used by the Bush administration "torture." Referring to these interrogations, Horton said, "Dick Cheney ordered this stuff…We know for a fact that George Bush and Dick Cheney are the ones who ordered this." And Paul remarked, "Bush had given these orders that allowed torture to occur." (The Huffington Post reported on this interview earlier this week, focusing on Paul's observation that both Republicans and Democrats on Capitol Hill had been aware of the Bush administration's reliance on torture.)
Horton asked, "What's your position on torture and war crimes prosecutions for the many torturers in the previous administration?" Paul answered, "I am opposed to torture, and I think our country should have a higher ideal than that…Torture is always wrong and shouldn't be performed."
Horton then pressed him about investigating and prosecuting Bush and Cheney for torture, and Paul replied,
I'm not sure I'm in favor of trying George Bush in some kind of trial for torture. I don't know if that does good for the country. I think it ended up being more of a political question than it ended up being whether or not you can try a political leader. There are some arguments for whether or not a president can be tried for things like that.
Horton, an advocate for placing Bush and Cheney on trial, wasn't satisfied with that response. He pushed Paul: "The whole theory of having the rule of law is that it does apply to the president and to the vice president? If they're felons, they're felons. After all, they're just American citizens like the rest of us. They're not royalty." Paul, agreeing with some of Horton's premise, replied,
Right. But I think there are also some questions that blur the line between being political questions and criminal questions, and that's a difficult one. You know, we had the same question with Nixon when he left, and Nixon was finally pardoned. The people faulted Ford for doing the pardoning. But in the end was it good for the country to move forward? I think it probably was. I think probably more important than the debate over prosecuting George Bush or Dick Cheney is the question of should we torture. And we need to make sure in the future that that doesn't happen again.
Several days later, Paul was on former judge Andrew Napolitano's Fox radio show, and he took another swipe at Cheney for having resorted to torture, arguing the former veep was a liability for the GOP:
If Republicans want Dick Cheney to be sort of the representative of our party, still defending torture, which is not something America stands for, it's just another way to shrink the Republican Party.
So Paul was firmly in the camp of those who consider the harsh interrogations used by the CIA as torture. He believed that Bush and Cheney were responsible for such torture. He came across as sympathetic to the notion that they could be prosecuted for having ordered torture, and he certainly indicated he thought Cheney was bad for the GOP. But Paul, who as a senator has demanded investigations of US drone policy and NSA surveillance and called for Director of National Intelligence James Clapper to be tried for perjury, would not go so far as to endorse an investigation or prosecution of Bush and Cheney. (He was running in a Republican primary at the time.)
Paul's comments about the Bush-Cheney administration's use of torture—like his assertion that Cheney helped launch the Iraq war to profit Halliburton—show that the confrontation between these two camps in the GOP is not merely a good-faith policy dispute over the appropriate deployment of military power overseas. This is a clash of cultures in which motives are deeply questioned. It seems Paul views the most recent vice president of his own party as a treasonous war-profiteer who gave a green light to criminal activity. Cheney considers Paul and his ilk as ill-informed and dangerous isolationists. With a wide-open campaign for the Republican presidential nomination nearing, this uncivil civil war can be expected to grow in ferocity, as the GOP continues to wrestle with its past and future.