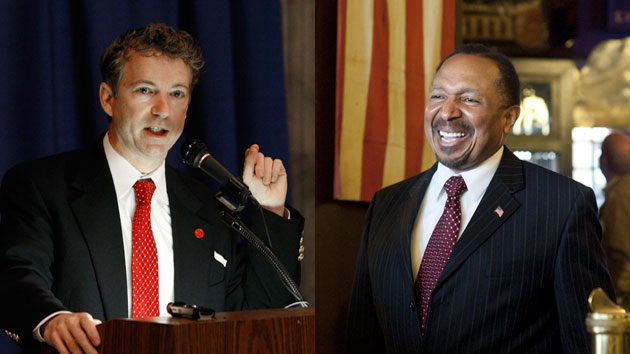 Fight disinformation:
Sign up
for the free
Mother Jones Daily
newsletter and follow the news that matters.
On Tuesday, Senator Rand Paul (R-Ky.) was the guest speaker on Rev. E.W. Jackson's semi-regular conference call, during which Jackson, a tea party activist, said that President Barack Obama has "Muslim sensibilities" and that gay Americans "want to destroy us."
Jackson, who was the losing Republican nominee for lieutenant governor of Virginia last year, is known for his many offensive and outlandish statements about gays, lesbians, non-Christians, and Obama. Jackson has warned that yoga leads to Satan, Obama is using NASA to expand Islam, and the Democratic Party platform is "an agenda worthy of the Antichrist."
During the call, Paul generally gave routine answers to questions on abortion, border security, and the size of the military. One caller did ask Paul if he supported Obama's recent declaration that June was LGBT Pride Month and if he believed homosexuality is an illness. The question was reminiscent of a tweet Jackson wrote in June 2009, when Obama designated June as Pride Month: "Well that just makes me feel ikky all over. Yuk!"
"I don't think that there's really a role for the federal government in deciding what people's behavior at home should be one way or another," Paul said. "It's not something the federal government needs to be involved in."
After Paul left the conference call, Jackson said he suspected the caller who asked about Pride Month was trying to harass them. "Thank god he was respectful," Jackson said. "But I just want to encourage everybody, that they are going to talk about us like [we're] dogs because all they know is hatred, because all they know is anger and bitterness, because there's something wrong with them on the inside…And by the way, they also want to destroy us…We are in a fight for our very lives, for our survival."
Jackson then discussed Obama's announcement of the release of Bowe Bergdahl, an American soldier captured in Afghanistan. He said that the president "could not help but smile" when Bergdahl's father, Robert, said "allahu akbar—or whatever it is they say" at the press conference.
Jackson continued: "I have been roundly criticized for saying the president has Muslim sensibilities. That's not my statement—that's just a statement of fact…In this situation you would think he would have restrained himself. But he could not help but smile when that man said 'Praise be to Allah.'"
(Bergdahl actually said "Bismillahir Rahmanir Rahim," which translates to "in the name of Allah, most compassionate, most merciful.")
Jackson has a history of extreme statements. In two interviews in October 2012 with Americans for Truth About Homosexuality—which the Southern Poverty Law Center considers a hate group—Jackson accused homosexuality of "killing black men by the thousands." He added that liberal activists who support gay marriage "have done more to kill black folks whom they claim so much to love than the Ku Klux Klan, lynching, and slavery and Jim Crow ever did." Of gay people, he said:
Their minds are perverted, they're frankly very sick people psychologically, mentally and emotionally and they see everything through the lens of homosexuality. When they talk about love they're not talking about love, they're talking about homosexual sex. So they can't see clearly…Homosexuality is a horrible sin, it poisons culture, it destroys families, it destroys societies.
In those interviews, Jackson also said that the president "seems to have a lot of sympathy for even radical Islam, unwilling to call it terrorism, unwilling to deal with it."
On the campaign trail last year, Jackson denied making the anti-gay statements, which were recorded.
Paul has made controversial remarks about same-sex marriage. After the US Supreme Court struck down the Defense of Marriage Act in June 2013, he said, "It is difficult, because if we have no laws on this, people will take it to one extension further—does it have to be humans?" Paul later said he was joking.
Paul's office did not reply to requests for comment on Jackson's claim Obama possesses "Muslim sensibilities."