This month the Supreme Court announced it would decide in the current term whether all 50 states must allow same-sex couples to marry. No doubt the justices are aware of how public opinion on the issue has evolved. But while legal gay marriage has spread rapidly over the last several years (see this map), sex education laws in many states remain in the Dark Ages—even in states where gay marriage is allowed.
In Arizona, for example, two men or two women can tie the knot, but no student can be exposed to curriculum that "promotes a homosexual lifestyle" or "suggests that some methods of sex are safe methods of homosexual sex." In South Carolina, where same-sex couples have been able to marry since last year, students are forbidden from learning about homosexuality "except in the context of instruction concerning sexually transmitted diseases." (Story continues below.)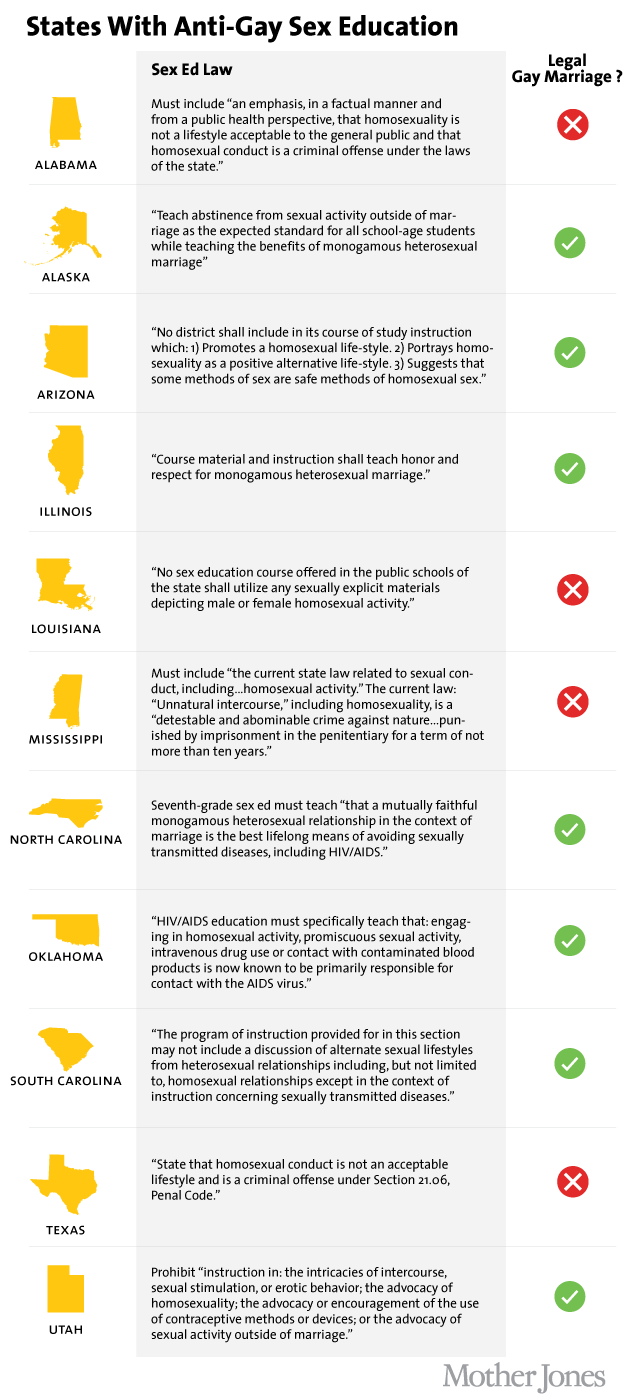 Sex education is only mandated for middle or high schoolers in 22 states, but almost every state in the nation has policies governing what teachers should emphasize or avoid if they teach sex ed. In 20 states, this means spelling out how teachers should cover homosexuality: 9 states require that information on sexual orientation be "inclusive," while the 11 states in the chart above have either pro-heterosexual or anti-homosexual biases.
Texas, Alabama, and Mississippi require sex ed teachers to frame homosexuality as a crime.
"These laws aren't keeping up with the world that we live in," says Elizabeth Nash, a public policy researcher at the Guttmacher Institute. "That could potentially be very difficult for many sex ed teachers." That's in part because states like Texas, Alabama, and Mississippi have statutes requiring teachers to frame homosexuality as a crime, based on outdated anti-sodomy laws. (In 2003, the Supreme Court ruled in Lawrence v. Texas that anti-sodomy laws were unconstitutional.)
Limitations on sex education have led some teachers to get creative. In Mississippi, one of 25 states that instruct educators to "stress" abstinence, teachers are prohibited from "any demonstration of how condoms or other contraceptives are applied." Nonetheless, 76 percent of Mississippi teenagers report having sex before the end of high school, and a third of babies in the state are born to teenage mothers. One sex ed teacher created a lesson not on how to put on a condom, which would be illegal, but instead explaining "how to put on a sock."