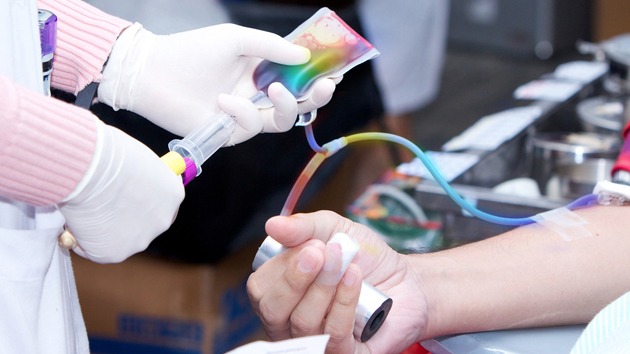 Fight disinformation:
Sign up
for the free
Mother Jones Daily
newsletter and follow the news that matters.
Update (12/23/14): The Food and Drug Administration will move forward with its plan to end the lifetime ban on gay men donating blood and replace it with a ban on donations from men who have had sex with other men in the past year, the agency announced on December 23. Our original story on the planned policy change follows below.
For the past three decades, the US government has, by default, assumed that all gay men are disease-ridden. In 1983, at the height of early AIDS panic, the Food and Drug Administration banned blood donations from any man who had had sex with another man—even once—at any time since 1977. That blanket prohibition persisted even as HIV and AIDS testing improved. Even today, gay men are forbidden from donating blood.
That could soon change. An FDA advisory committee is meeting Tuesday to consider overturning the prohibition on blood donations by gay men. But there's a catch: Under the proposal the FDA is considering, only celibate gay men will be able to donate.
If the FDA approves the shift, men who have had a sexual encounter with another man within the past 12 months would still be barred from giving blood. To the FDA, it wouldn't matter if a man is in a committed relationship or practices safe sex: Any man who sleeps with another man would be deemed tainted and unfit to donate blood.
When the FDA first implemented its blanket ban in 1983, HIV and AIDS were frighteningly new and unknown diseases. Since then, it has become quite easy to test blood to ensure that it is free of disease. Men who have sex with men are still at a higher risk of contracting HIV than the general population, and brand new infections are still hard to detect. But modern blood tests can detect HIV within two weeks of infection, making the one-year ban needlessly onerous.
A study by the Williams Institute at UCLA School of Law found that if gay men were allowed to donate blood like other members of the public, 360,600 men would come forward to give blood, adding an extra 615,300 pints of blood available for infusions every year. But those numbers drop dramatically under the one-year abstinence requirement, slipping to 185,800 new donors and just 317,000 pints of blood.
Some gay rights groups seem willing to accept the yearlong restriction as a reasonable starting point—a positive change that could lay the foundation for a better policy down the road. "The policies that are in place, the lifetime ban, perpetuates negative stereotypes and stigma," says Ryan James Yezak, founder of the National Gay Blood Drive. "It assumes that all gay and bisexual men are likely to have HIV and therefore must be blanket banned. And that's just not necessary in this day and age when they have the testing and other countries have moved to deferral time period."
Yezak started his group, which holds annual blood drives to highlight the number of gay men interested in donating, after he'd tried to give blood for coworkers after a natural disaster in Tennessee, only to realize that the rules barred him from helping. "I thought it was just absurd," he says. "It really felt like discrimination. I had never felt that before, directly impacted by a law or policy when it didn't feel like it was justified."
When I spoke with Yezak on the phone Monday afternoon, he was busy preparing his speech for Tuesday's FDA hearing. He had testified against the ban before, and would have two minutes to present to the FDA. When I asked him about the still-stern proposed guidelines, he noted that past gay rights victories, including the repeal of Don't Ask, Don't Tell and the legalization of same-sex marriage, had come in fits and starts—not all at once. "After seeing what a difficult and complex process it is to make any change to the policy," Yezak told me, "we're very enthusiastic about this big first step in the right direction. However, it is only a first step in a series of steps, hopefully."
Other activists have taken a harder line. The current policy and the new proposal are "simply wrong," David Stacy, the government affairs director at the Human Rights Campaign, a top gay rights lobby, said last month. "It's far past time for this stigma to end."