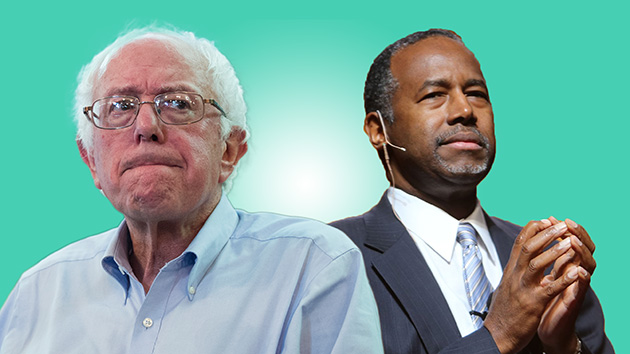 Fight disinformation:
Sign up
for the free
Mother Jones Daily
newsletter and follow the news that matters.
Political campaigns often try to portray themselves as driven by grassroots support, but they face a formidable obstacle: Most Americans don't ever make a campaign donation. Even Barack Obama, renowned for his ability to reach out to grassroots donors, got just 33 percent of his 2012 campaign's cash from people contributing less than $200. With the cost of elections rising, it's increasingly rare for a candidate to get a sizable proportion of his or her campaign cash from small donors. So far in this presidential race, just two candidates have managed to do so—and they're not two people who often find themselves in the same sentence.
Ben Carson and Bernie Sanders, two longshot candidates who have outperformed expectations in the polls, have accumulated a far higher percentage of their campaign funds from small donors than any of the other candidates, according to an analysis from the Campaign Finance Institute.
Of the $350 million that CFI counts as having been raised so far this cycle by candidates and super-PACs, just $42 million, or 12 percent, came from donors giving less than $200. By contrast, 31 percent came from the 56 donors who gave $1 million or more, and more than half came from the 474 donors who gave $100,000 or more.
The top candidates from each party have fairly dismal small-dollar operations. Jeb Bush's team has raised the most money in the race, with a whopping $114 million combined between the campaign and the Right to Rise super-PAC. Of that, just $700,000, or far less than 1 percent, has come from small donors. Compare that with the 25 percent of his team's cash that has come from donors giving $1 million or more.
The next biggest Republican fundraiser, Texas Sen. Ted Cruz, whose combined operation has raised $50.9 million, has picked up about 11 percent of his money from small donors. Florida Sen. Marco Rubio, whose campaign and super-PAC have amassed about $24.5 million, has gotten about 8 percent from the $200-and-under crowd. Wisconsin Gov. Scott Walker did not have an official campaign at the last deadline to file campaign finance reports, but his super-PAC, Unintimidated PAC, appears to have gotten no small donations. Of the $20 million it has raised, $12.7 million came from just four people.
Democratic front-runner Hillary Clinton campaign has raised $47.5 million for her campaign alone, and supportive super-PACs have added another $20.3 million, making her much more reliant on the regulated traditional campaign finance system that caps donations at $2,700 per person. Team Clinton had just nine donors giving $1 million or more, but it also got only 8.1 percent of its money from donors giving $200 or less.
But in a campaign that is being defined as an expensive, millionaire-fueled fight, it's striking to see the percentages raised by Sanders and Carson from small donors.
Sanders, who has never been a particularly successful fundraiser and whose campaign is built in part on the premise that it does not have the support of fat-cat establishment donors, has raised $13.6 million, of which a huge 77 percent came from donors giving $200 or less. The $10.5 million he's raised from small donors puts him ahead of 13 of the 21 candidates included in CFI's survey, including much better-funded campaigns.
Carson, a nontraditional candidate by any measure, has also been extremely successful with small donors. With his campaign and super-PAC raising $16 million total, Carson has raised more than all but four GOP candidates, putting him ahead of New Jersey Gov. Chris Christie and Kentucky Sen. Rand Paul. And $10.4 million, or about 65 percent of that take, comes from small donors.
In a Republican primary where candidates are desperate to show their populist appeal, Carson is the only one who has anything remotely resembling a grassroots fundraising network. Setting aside Donald Trump's campaign, which has officially raised only about $100,000 from sources other than Trump himself, the Republican campaign that has gotten the next-highest proportion of its haul from small donors belongs to Cruz.
A key difference between Sanders and Carson, however, is that Carson has had to work hard for his small-donor network. Carson's campaign has spent $5.9 million of the $10.6 million the campaign itself has raised, and much of that was on fundraising. As of June 30, Carson's campaign still had $4.9 million in cash left, but Sanders had $12.1 million of the $13.6 million his campaign had raised. While Carson is spending money to make money from small donors, Sanders has been able to pull it in on the cheap.
The full CFI analysis can be found here.