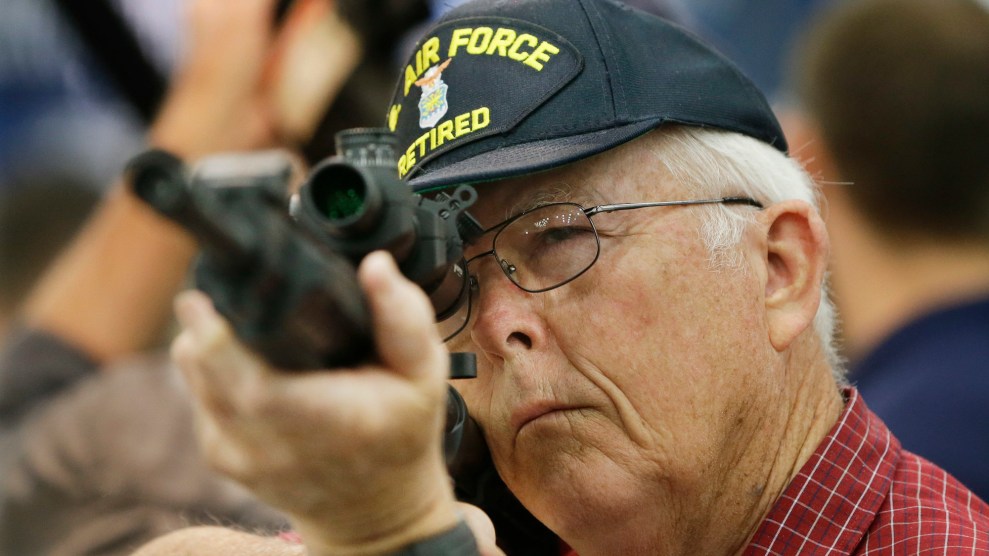 Fight disinformation:
Sign up
for the free
Mother Jones Daily
newsletter and follow the news that matters.
Just hours after presumptive Republican presidential nominee Donald Trump announced he would meet with the NRA to discuss "not allowing people on the terrorist watch list, or the no fly list, to buy guns," the organization gave its response: we'll meet Trump, but we're sticking to our guns.
"The NRA's position on this issue has not changed," said Chris W. Cox, the executive director of the NRA's Institute for Legislative Action, in a statement. "The NRA believes that terrorists should not be allowed to purchase or possess firearms, period. Anyone on a terror watchlist who tries to buy a gun should be thoroughly investigated by the FBI and the sale delayed while the investigation is ongoing." The group issued a similar statement in the wake of last year's terrorist attack in Paris.
An NRA spokesman told Mother Jones the statement simply supported the existing checks that take place whenever someone on a watchlist attempts to buy a gun. If a gun buyer's background check shows she's on a watch list, the government is able to step in, investigate, and prevent the sale—but that almost never happens. More than 90 percent of purchases are approved, according to data from the Government Accounting Office.
The NRA is instead focused on pushing for a way to remove people more easily from watchlists. "Due process protections should be put in place that allow law-abiding Americans who are wrongly put on a watchlist to be removed," the group wrote in the statement. The NRA argues that people on watchlists often wrongly end up there because of broad and secretive standards, and it's able to call on an unusual allies to help make that case. The ACLU and the Council on American Islamic Relations are two other prominent organizations that agree with the NRA's stance on civil liberties grounds.
Hina Shamsi, the director of the ACLU's National Security project, told the Huffington Post that watchlists would be an acceptable way to limit gun access only if there were a "major overhaul of the watch-listing system because it uses vague and overbroad standards, the result of which innocent people are blacklisted without a fair process to correct government error."
Nevertheless, President Obama complained earlier this month that "we're allowed to put [people] on the no-fly list when it comes to airlines, but because of the National Rifle Association, I cannot prohibit those people from buying a gun." Democrats are also pushing to ban gun sales to people on watchlists in the wake of Sunday's massacre in Orlando, launching a filibuster in the Senate on Wednesday to demand new gun laws.