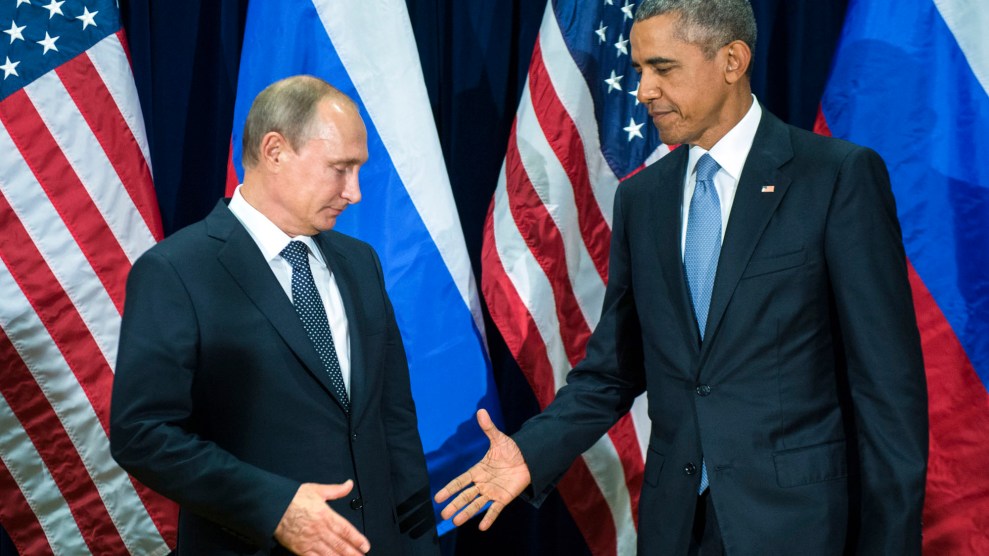 Fight disinformation:
Sign up
for the free
Mother Jones Daily
newsletter and follow the news that matters.
President Barack Obama has added momentum to the call for an investigation of Russian meddling in the 2016 election. On Friday morning, Lisa Monaco, a top White House aide on homeland security, told a group of reporters that the president has directed the national intelligence community to conduct a "full review" of Russian interference in the campaign.
Obama's decision comes as members of Congress have upped the volume on demands that the Russian hacking of Democratic targets be probed. Rep. Elijah Cummings (D-Md.), the top Democrat on the House government oversight committee, has urged Rep. Jason Chaffetz (R-Utah), the chairman of that committee, to mount a congressional investigation of Moscow's intervention in the election. But Chaffetz, who prior to the election vowed to fiercely investigate Hillary Clinton should she win, has not responded to Cummings' request, according to a Cummings spokeswoman. House Minority Leader Nancy Pelosi of California and incoming Senate Minority Leader Chuck Schumer of New York have seconded Cummings' call for a congressional investigation.
This week, Sen. John McCain (R-Ariz.), who chairs the Senate Armed Services Committee, said he will mount a probe of Russian cyber penetrations of US weapons systems and noted that he expects this inquiry will also cover hacking related to the election. "The problem with hacking," McCain said, "is that if they're able to disrupt elections, then it's a national security issue, obviously." And the Washington Post reported that Sen. Bob Corker (R-Tenn.), the chair of the Senate Foreign Relations Committee, and Sen. Richard Burr (R-S.C.), chair of the Senate Intelligence Committee, have also expressed interest in examining the Russian hacking.
Meanwhile, a group of high-ranking House Democrats sent a letter to President Barack Obama requesting a classified briefing on Russian involvement in the election, and seven Democrats on the Senate Intelligence Committee publicly pressed the Obama administration to declassify more information about Russia's intervention in the election. Republican Sens. Lindsey Graham and Marco Rubio have also urged a congressional investigation of Russian interference. "I'm going after Russia in every way you can go after Russia," Graham told CNN. "I think they're one of the most destabilizing influences on the world stage, I think they did interfere with our elections, and I want Putin personally to pay a price."
Cummings has also joined with Rep. Eric Swalwell, (D-Calif.), a Democrat on the House Intelligence Committee, to introduce legislation to create a bipartisan commission to investigate attempts by the Russian government or persons in Russia to interfere with the election. The commission would consist of 12 members, equally divided between Democrats and Republicans, and would be granted subpoena power, the ability to hold public hearings, and the task of producing a public report.
And that's the key thing: a public report.
With the Obama administration and its intelligence services having already declared that Russia hacked Democratic targets during the election and swiped material that was ultimately released through WikiLeaks, the public certainly deserves to know more about this operation. How did it happen? How has it been investigated by US agencies? How can future cyber interventions be prevented and future US elections secured from foreign influence?
The Obama-ordered probe is due before he leaves office on January 20, and it will likely be the first of all the possible investigations to be completed. (Presumably, the CIA, the FBI, and the National Security Agency were already looking into the topic.) But there's no telling how much of this review, if any, will be released publicly. A White House spokesman tells Mother Jones, "Hard to say right now, but we'll certainly intend to make public as much as we can consistent with the protection of classified sources and methods and any active law enforcement investigations."
In response to the news of the Obama review, Rep. Adam Schiff (D-Calif.), the top member of the House Intelligence Committee, declared, "The Administration should work to declassify as much of it as possible, while protecting our sources and methods, and make it available to the public."
Yet this review may or may not yield a public accounting. And a congressional investigation might or might not include public hearings and a public report. Only the independent bipartisan commission proposed by Cummings and Swalwell would mandate the release of a public report.
While all the recent developments on this front are heartening for citizens who want to know to what degree American democracy was affected by covert Russian actions, there is so far no assurance that Americans will be presented the full truth. For Obama's review to be released publicly, it will likely have to be scrubbed for classified information—a process that can take time. And if time runs out, the new Trump administration might not be keen on putting out a declassified version of the report. President-elect Donald Trump has repeatedly refused to acknowledge Russian involvement with the hacking of the Democratic National Committee and other Democratic targets. Would he want to release a report that contradicted him or that could be seen as tainting his electoral victory?
Talking to reporters, Monaco declined to say what she expected the Obama-ordered review to unearth. "We'll see what comes out of the report," she said. "There will be a report to a range of stakeholders, including Congress."
But the biggest stakeholder of all is the American voter.
UPDATE: On Friday night bombshell news reports noted that the CIA had assessed Russia intervened in the US election to help Trump win; that during the campaign senior congressional Republicans, including Senate majority leader Mitch McConnell, had resisted a private White House request to be part of a bipartisan effort to call out Russian hacking of Democratic and political targets; and that Moscow had penetrated the computer system of the Republican National Committee but had not publicly disseminated any of the stolen material.