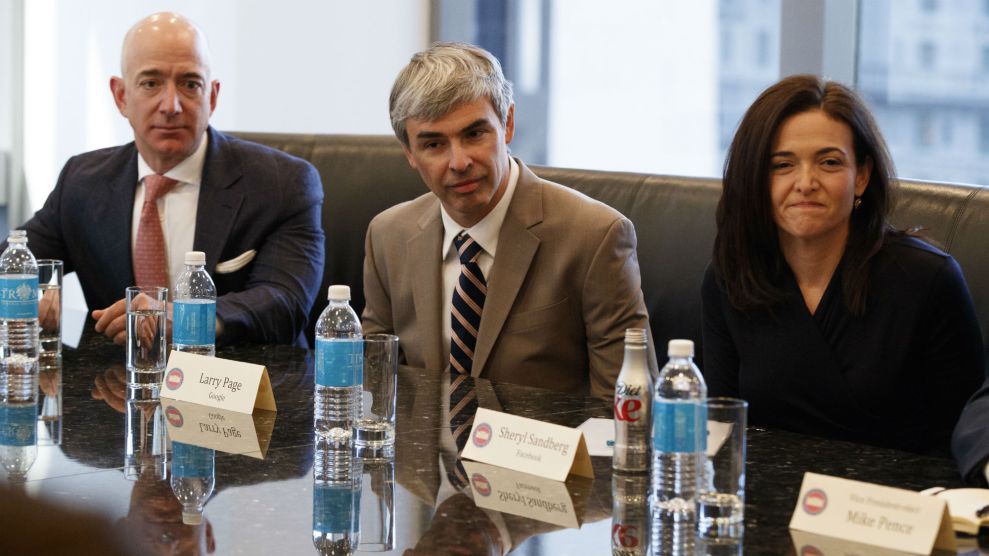 Fight disinformation:
Sign up
for the free
Mother Jones Daily
newsletter and follow the news that matters.
Executives from Facebook, Apple, Alphabet (Google's parent company), Amazon, and other Silicon Valley tech giants had a much-anticipated meeting with Donald Trump this afternoon, despite the rocky relationship between tech groups and Trump during his campaign. According to the Wall Street Journal, the president-elect struck a "conciliatory tone," leading off the meeting with the reassurance that he wants "to help you folks do well."
"We want you to keep going with the incredible innovation," he continued. "Anything we can do to help this go along we're going to be there for you."
That tone is in sharp contrast to the more critical, sometimes hostile words exchanged between Silicon Valley leaders and Trump in the months leading up to his election. Many tech moguls repeatedly lambasted Trump, characterizing his views on immigration and trade as "a disaster for innovation," while Trump castigated tech executives for, among other things, sending jobs overseas. In one notable instance, Trump also accused Amazon CEO Jeff Bezos for buying the Washington Post—temporarily blacklisted by Trump for its unfavorable coverage of his campaign—to keep taxes low and avoid antitrust scrutiny.
The only tech billionaire at the meeting who supported Trump during his campaign was Peter Thiel, the entrepreneur and venture capitalist who founded PayPal. Thiel, who spoke at the Republican National Convention in July and is now on Trump's transition team, helped decide who from Silicon Valley should be invited to the meeting. One striking omission from the guest list was Twitter CEO Jack Dorsey, who was reportedly excluded as retribution over a failed "crooked Hillary" emoji hashtag.
According to sources close to the meeting, the official agenda was focused on jobs and the role of technology in government. It's unclear whether other issues important to the attendees were topics of discussion at the meeting. Climate change, for example, which Trump has repeatedly denied, is a priority for Tesla CEO Elon Musk, who acquired the solar panel company SolarCity only a week before the election. Sheryl Sandberg, COO of Facebook and author of Lean In, has forcefully advocated better women's workplace rights.
On Tuesday, Bill Gates paid a visit to the president-elect only a day after launching a $1 billion fund to fight climate change with clean energy innovation. "We had a good conversation about innovation, how it can help in health, education, impact of foreign aid, and energy," Gates said after the meeting.
Many in Silicon Valley remain wary of how a Trump presidency will change the industry following its exponential growth during the Obama administration. But Trump is doing his best to be liked. "I'm very honored by the bounce," he said during the meeting Wednesday in reference to the recent uptick in stocks. "Everybody's talking about the bounce, so everybody in this room has to like me at least a little bit."