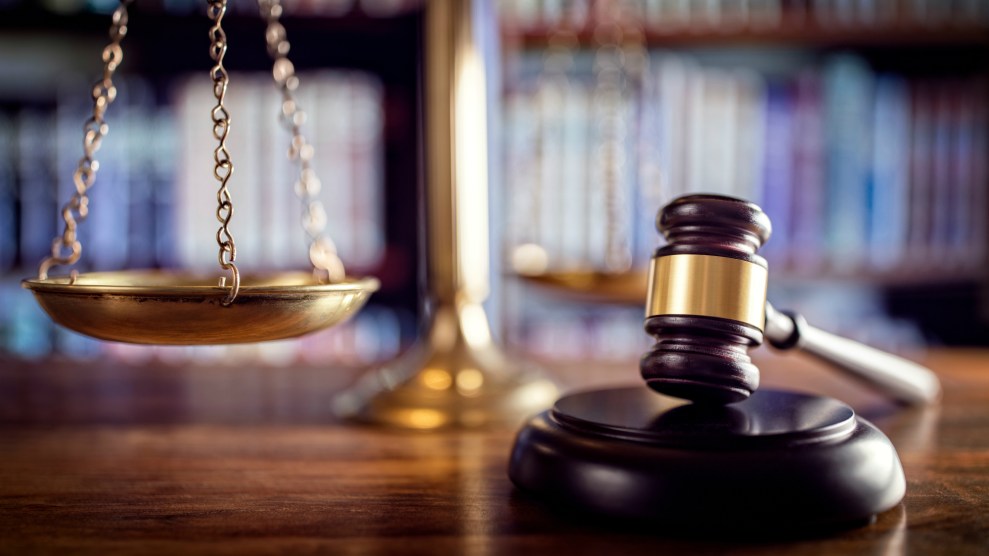 Fight disinformation:
Sign up
for the free
Mother Jones Daily
newsletter and follow the news that matters.
For decades, Missouri has embarked on a quest to eliminate abortion access. Earlier this year, state legislators filed some 14 anti-abortion proposals before the start of the session, making it a prominent example of emboldened efforts on the state level in the Trump era. Those measures were dealt a blow last week when a federal judge suspended two long-standing abortion restrictions in the state, but with the GOP controlling every level of the state's government, state lawmakers are undeterred in their efforts to restrict abortion access.
Today, a Planned Parenthood clinic in St. Louis is the state's sole abortion provider licensed to serve approximately 1.2 million women of reproductive age, many of whom would face a 370-mile drive to access services, a process further protracted by a mandatory 72-hour waiting period. "People are driving hours to St. Louis, or they're crossing over the state line into Kansas or other states in order to access services," says Laura McQuade, the president and CEO of Comprehensive Health of Planned Parenthood Great Plains, one of the Planned Parenthood affiliates that filed a lawsuit last year challenging the Missouri restrictions.
As a leader in restricting abortion access, Missouri passed laws more than a decade ago that required doctors who perform abortions to have admitting privileges at local hospitals and abortion clinics to meet the same structural requirements as ambulatory surgical centers. These laws were subsequently also passed in Texas, where they were challenged and finally struck down by the Supreme Court in a 5-3 ruling in Whole Woman's Health v. Hellerstedt in 2016.
Two Republican state senators joked that women should go to the St. Louis Zoo for abortions, suggesting that it was "safer" and better regulated than the state's lone abortion provider.
Last week, in response to a challenge filed last fall by two Planned Parenthood affiliates with Missouri clinics, US District Court Judge Howard Sachs agreed to enjoin Missouri's version of the restrictions. Sachs first announced his decision in an April 3 memo sent to the parties involved in the case. In his decision, Sachs noted that the restrictions had negatively affected women in the state and failed to comply with the Supreme Court's ruling. "The abortion rights of Missouri women, guaranteed by constitutional rulings, are being denied on a daily basis, in irreparable fashion," he said. "The public interest clearly favors prompt relief." The restrictions will be halted while the effort to permanently strike down the laws moves through the courts.
Sachs' ruling could have an immediate impact on abortion access in the state. Shortly after the decision was announced, the Missouri Planned Parenthood affiliates released a joint statement confirming their desire to increase the number of local abortion providers by expanding services to four additional Planned Parenthood locations. But Missouri Attorney General Josh Hawley has promised to appeal the decision, saying that it was "wrong" with the dire consequence that laws that "protect the health and safety of women who seek to obtain an abortion" can no longer be enforced.
Last week's ruling, however, is unlikely to deter state legislators from pursuing further abortion restrictions. Around the same time that Sachs issued the April 3 memo announcing his intent to grant the injunction, two Republican state senators, frustrated that they were unable to block a St. Louis nondiscrimination ordinance protecting women that are pregnant, use birth control, or have had an abortion, took time during a discussion of tax hikes benefiting the state zoo to joke that women should go to the St. Louis Zoo for abortions, suggesting that it was "safer" and better regulated than the state's lone abortion provider.
Meanwhile, shortly after Republicans in Congress moved to defund Planned Parenthood, state Republican Rep. Robert Ross proposed an amendment to House Bill 11—an appropriations bill for the Missouri Department of Social Services—that would allow the state to prevent "abortion services" providers from receiving state family planning funding. This could potentially include any group that provides even abortion referrals upon request. Allison Dreith, the executive director of NARAL Pro-Choice Missouri characterized the amended bill as having the potential to create "a public health crisis in our state, if family planning clinics, hospitals, and Planned Parenthood are defunded from Medicaid reimbursement." The measure passed the House on a 107-39 vote and is now with the Senate.
Missouri lawmakers have faced some unintended consequences in their zeal to cut back on family planning services. In 2016, the state rejected the federal family-planning funding it had received through Extended Women's Health Services, a Medicaid program for low-income women funded by both the state and federal governments. Federal law already prevents Medicaid from reimbursing providers for the costs of most abortions, but Missouri legislators hoped to go further by completely cutting off funding to groups like Planned Parenthood by rejecting some $8.3 million dollars in federal funds, opting to create a state-funded program that would no longer have to abide by federal rules mandating that patients have the ability to choose their health care provider.
In the months leading up to the measure taking effect, Missouri has moved to block all abortion providers, including hospitals, from receiving family planning funding. But to the consternation of Missouri conservatives, many Planned Parenthood clinics in the state remained eligible for the program because they are not permitted to provide abortions. "Despite that being a simple amendment last year, apparently [the Department of Social Services] was confused," Ross said when discussing his proposed amendment earlier this month, according to reports from the Missouri House of Representatives newsroom. Ross' HB 11 amendment would change things by ensuring that even those who provide information about or referrals for abortions are excluded from the funding program.
"They have defined 'abortion services' so broadly that it is going to basically decimate the entire family-planning network across the state of Missouri," says Michelle Trupiano, the executive director of the Missouri Family Health Council, which allocates funding to 71 clinics in the state under the federal government's Title X family planning program.
Trupiano notes that under the conditions of Title X, many of the state's family planning providers are required to offer abortion referrals upon request, a mandate that could open them up to losing funding should HB 11 be adopted. "There wouldn't be a single provider that could participate in [the program]," she adds. With less than a month remaining in Missouri's legislative session, advocates have begun lobbying lawmakers in hopes of defeating the amendment.
But given the history, advocates say, some lawmakers in Missouri will do anything to restrict abortion, even if it means an overall reduction in access for women to health care options in the process. "Responsible legislators want to move forward to other issues," McQuade says. "But this is what Missouri is choosing to spend its time on right now. It's deeply disheartening."