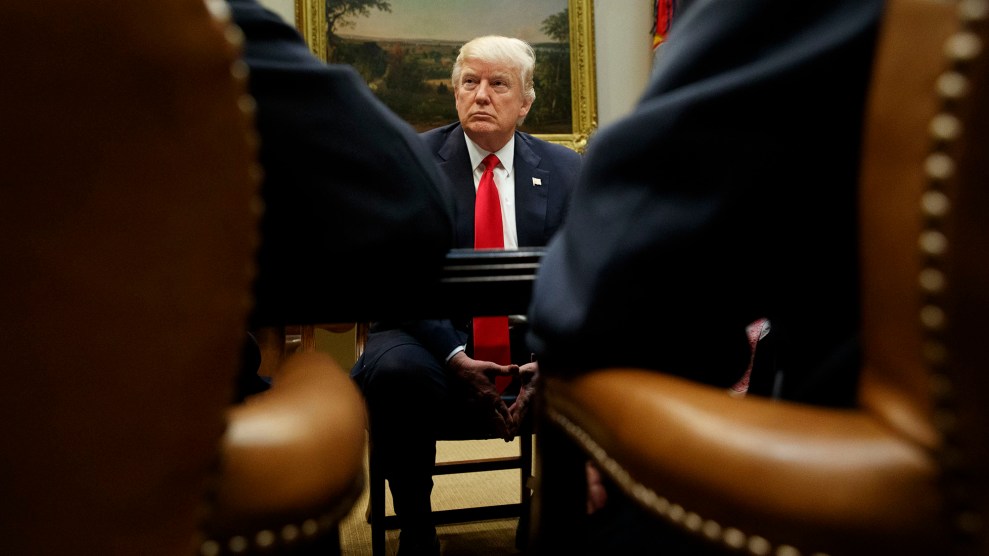 Fight disinformation:
Sign up
for the free
Mother Jones Daily
newsletter and follow the news that matters.
The Trump administration will keep its list of visitors to the White House secret, the White House announced Friday. This move—a major retreat from transparency—breaks from the Obama policy, which regularly released a log of White House visitors, with some exceptions.
The Obama administration was the first to voluntarily disclose its visitor logs. Though the data was incomplete—the White House reserved the right to withhold names it deemed sensitive—this public data was important information regarding how the White House did business. The logs were a much-used resource for media outlets. These records may well be more significant in the Trump administration, which is already mired in conflicts of interest due to the vast financial entanglements of the president (and his daughter, son-in-law, and other key advisers).
White House Communications Director Michael Dubke defended the decision to Time, saying the reversal was due to "the grave national security risks and privacy concerns of the hundreds of thousands of visitors annually." Administration officials also noted that the decision was necessary to allow the president to seek advice from whomever he wants. The logs will be kept secret for at least five years after Trump leaves office.
Earlier this week, a trio of open-government groups sued the Trump administration, arguing that its refusal so far to release the visitor logs violated the Freedom of Information Act. "Given the many issues we have already seen in this White House with conflicts of interest, outside influence, and potential ethics violations, transparency is more important than ever, so we had no choice but to sue," said Noah Bookbinder, executive director of Citizens for Responsibility and Ethics in Washington, one of the groups that filed suit. Last month, eight Democratic senators urged the president to continue the Obama administration's policy. "We see no reason why you would be unable to continue policies of your predecessor," they asserted. "And we urge you to extend those policies to address your decision to regularly conduct official business at private properties that also provide access to certain members of the public."
Trump's decision to roll back transparency at the White House clashes with his previous criticism of Obama.
Why is @BarackObama spending millions to try and hide his records? He is the least transparent President–ever–and he ran on transparency.

— Donald J. Trump (@realDonaldTrump) June 6, 2012