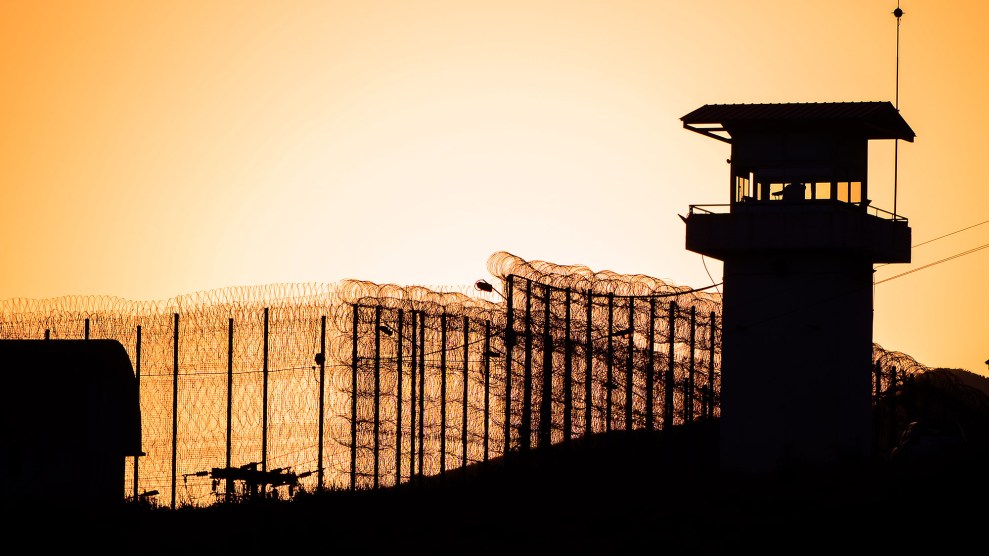 Fight disinformation:
Sign up
for the free
Mother Jones Daily
newsletter and follow the news that matters.
The government of Puerto Rico has proposed sending hundreds of jail inmates to detention facilities on the mainland, a decision that would take them away from their families, weakening the community links that activists say aid post release rehabilitation.
First reported last week by El Nuevo Dia, the island's biggest newspaper, the plan would send 3,200 people in Puerto Rican jails to detention facilities in the states over the next five years, about 30 percent of the island's incarcerated population. The government—which referred to the idea as "externalization of services" in its latest draft fiscal plan—projects that the move would save $17.2 million in the coming fiscal year, and $46.9 million by 2022.
The proposal is part of a fiscal plan the governor has to submit to the island's federally-appointed financial oversight board, which must approve the Puerto Rico's budget. The board was created by the U.S. Congress in 2016 after the island's government declared that it could not pay more than $72 billion in outstanding debts.
"It's a terrible hardship for families," Rosa Alexandrino, a criminal defense lawyer in San Juan, tells Mother Jones. In many cases, she says, it's hard enough for family members to travel inside Puerto Rico to visit loved ones in jail. Now they'd be an expensive and time consuming flight, and perhaps a multi-day trip, away.
A spokesperson for Puerto Rico Gov. Ricardo Rosselló could not be reached for comment.
Erik Rolón, Puerto Rico secretary of corrections and rehabilitation, told El Nuevo Dia last week that housing the average inmate in Puerto Rico cost about $100 to $110 per day, with the most expensive prisoners costing $200. Rolón said the same inmate in a stateside detention facility would cost about $60.
It's unclear where the inmates would be sent, or if they would go to public jails and prisons or private detention facilities. Rolón said the transfers would be voluntary, not "imposed," and therefore not a violation of civil rights. A spokesman for Rolón said that decisions around where the inmates will end up are not finalized as the government would have to go through a bidding process.
"We are planning to work this program as a voluntary one," the spokesperson said in a message sent to Mother Jones. "The idea is that the inmate decides the best rehabilitation opportunity he has, taking [into] consideration all the facts (family situation, etc.)."
But Alexandrino, who has worked cases involving the island's department of corrections for decades, is skeptical of that assurance.
"I don't know how they're going to meet the quotas they've established," Alexandrino says. "It's very easy for a corrections officer to make life extra difficult. If they can't meet the quota with volunteers, they're going to have to say 'You, and you, and you,' and point a finger. It's like saying 'We'll do this the easy way or the hard way.'"