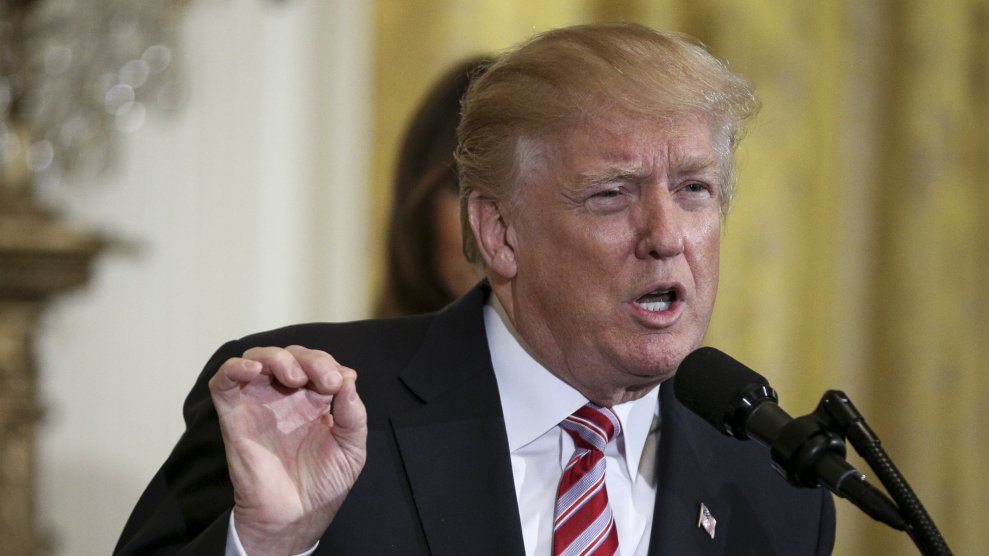 Fight disinformation:
Sign up
for the free
Mother Jones Daily
newsletter and follow the news that matters.
Two days after 13 Russian nationals were indicted for allegedly interfering in the 2016 presidential campaign, President Donald Trump denied that he'd ever claimed Russia hadn't meddled in the election. On Twitter Sunday morning, Trump acknowledged that he'd repeatedly referred to the Russia scandal as a "hoax," but he insisted that he had simply meant his campaign hadn't colluded with Russia.
I never said Russia did not meddle in the election, I said "it may be Russia, or China or another country or group, or it may be a 400 pound genius sitting in bed and playing with his computer." The Russian "hoax" was that the Trump campaign colluded with Russia – it never did!

— Donald J. Trump (@realDonaldTrump) February 18, 2018
Trump's claim that he "never said Russia did not meddle" appears to be an attempt to recast his past statements after Friday's indictments shattered his efforts to dispute the significance of Russian interference. But yet again, Trump isn't telling the truth. In reality, he has repeatedly cast doubt on the US intelligence community's conclusion that Russia worked to disrupt the election and wanted to help Trump win.
In November, Trump drew notice when he recounted a conversation he'd recently had with Russian President Vladimir Putin. "He said he absolutely did not meddle in our election," Trump told reporters during a flight to Hanoi, Vietnam. "I really believe that when he tells me that, he means it," Trump said.
On September 27, 2017, after Facebook revealed that Russians had placed political ads on the site during the 2016 campaign, Trump tweeted that the "hoax continues, now it's ads on Facebook." Trump in this case used the word "hoax" to dismiss claims that Russia had attempted to influence the election. Facebook's disclosure did not allege the Trump campaign colluded with Russia.
The Russia hoax continues, now it's ads on Facebook. What about the totally biased and dishonest Media coverage in favor of Crooked Hillary?

— Donald J. Trump (@realDonaldTrump) September 22, 2017
In April, on CBS News' Face the Nation, Trump said it was hard to know who hacked Democratic emails, despite the fact that the intelligence community has attributed those actions to Moscow. "It's very hard to say who did the hacking," Trump said. "With that being said, I'll go along with Russia. It could have been China. It could have been a lot of different groups." Trump then called claims that his campaign colluded with Russia a "phony story." When asked if Russian interference in the election was also a phony story, Trump said, "That I don't know. I don't know."
Trump's attempt to revise his position on Russian meddling came during an extraordinary—even for him—burst of tweets Saturday night and Sunday morning. At 11:08 pm Saturday night, Trump appeared to blame the ongoing Russia investigation for the FBI's failure to prevent Wednesday's school shooting in Parkland, Florida, that left 17 people dead. At 11:22 pm, he faulted his national security adviser, H.R. McMaster, for failing to repeat Trump's preferred talking points about Russian interference.