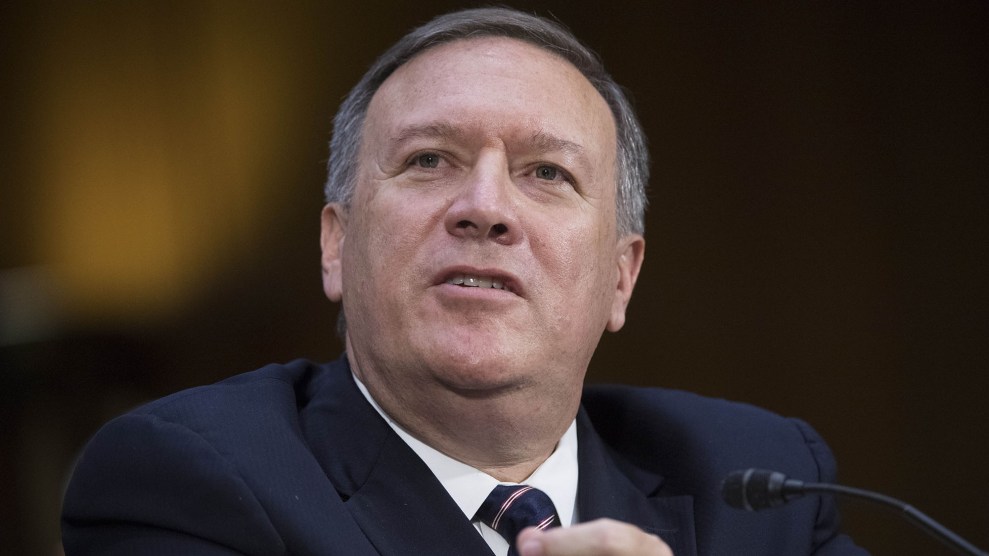 Fight disinformation:
Sign up
for the free
Mother Jones Daily
newsletter and follow the news that matters.
CIA Director Mike Pompeo repeatedly refused to comment on President Donald Trump's attack on Special Counsel Robert Mueller during his confirmation hearing Thursday to be the next Secretary of State.
Several senators on the US Senate Foreign Relations Committee asked Pompeo to comment on Trump's sustained attack on Mueller's investigation into possible ties between Trump associates and the Russian effort to interfere in the 2016 US presidential election. Time and time again, Pompeo avoided taking a position.
"As the director of the CIA I've been involved in that investigation," Pompeo told Sen. Chris Coons (D-Del.) who asked about Trump's attacks in the context of respecting the rule of law. "I have been a participant in Special Counsel Mueller's activity. I think anything anything I say with respect…I want to avoid that today."
Pompeo acknowledged cooperating with the investigation, specifically citing interviews he sat for with Mueller and relevant congressional committees concerning a summer 2017 Washington Post report that Trump had asked Pompeo and Director of National Intelligence Dan Coats to intervene with then-FBI Director James Comey to help halt an investigation into former National Security Adviser Mike Flynn. Pompeo told the senators that he didn't "recall if [Trump] asked anything that particular day" but added that whatever was discussed was not inappropriate.
"Everything that I was asked to do in my role as CIA director related to any of these investigations I've done with as much thoroughness, as much depth, and as much alacrity as our organization could achieve," Pompeo said.
Coons asked Pompeo if, in the event Trump were to fire Mueller or Deputy Attorney General Rod Rosenstein, he would resign as Secretary of State to demonstrate that the US is a nation of laws.
"I haven't given that question any thought," Pompeo said. "My instincts tell me no. My instincts tell me that my obligation to continue to serve as America's senior diplomat would be more important in increased times of political domestic turmoil."
Sen. Chris Murphy (D-Conn.) cited Coons' remarks during his own questions, and gave Pompeo another chance to condemn Trump's attacks on Mueller. Pompeo again declined, saying he didn't want to "create challenges" for Mueller or the congressional committees reviewing the matter.
"By refusing to condemn attacks on the special counsel, I mean really over-the-line attacks that aren't shared by Republicans here in Congress, you are frustrating the work of the special counsel because you're associating yourself with some very poisonous political attacks," Murphy said.