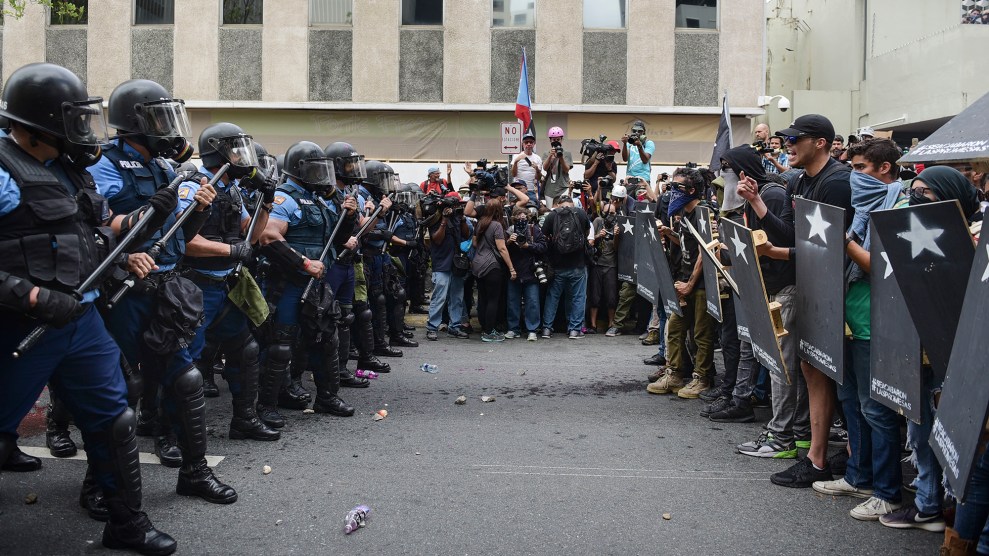 Facts matter:
Sign up
for the free
Mother Jones Daily
newsletter.
Support
our nonprofit reporting.
Subscribe
to our print magazine.
A federal judge has ordered an investigation of into how Puerto Rico police responded to a May Day demonstration. The order, issued Friday morning, calls for "an independent evaluation and assessment" of the violent halting of part of Tuesday's protest.
Police blocked marchers in the financial district of San Juan, triggering a standoff that was eventually broken when they used tear gas and flash grenades to disperse the crowd. The protest, timed for International Workers' Day, targeted austerity measures imposed by a congressionally-created oversight board charged with leading the island out of its decade-long fiscal crisis. Puerto Rico's financial troubles, deepened by the $100 billion in damages caused by hurricanes Irma and María, have forced the government to, among other cost saving measures, close schools, lay off thousands of public employees, and raise university tuition.
The May 1 protests on Ponce de León Avenue, also known as the Golden Mile, in the Hato Rey section of San Juan were planned to pass by the offices of a series of banks and other financial firms. Protesters were blocked from advancing down the street, leading to the standoff and eventual clash.
"It was all a setup, it was all planned. They created the situation that led to this conflict," says William Ramirez, the executive director of the island's ACLU branch. "It was an ambush that was planned."
Ramirez told Mother Jones that police attacked protesters, journalists, and legal observers. The New York Times reported that 13 people were arrested, and 15 officers were injured by projectiles or "irritated" by gas. The day after the protest, Gov. Ricardo Rosselló accused a small group of protesters of causing the violence by throwing "projectiles" at police, according to the Times, and lamented that the violence "damages the good name of Puerto Rico."
A spokeswoman for Hector Pesquera, the head of the Puerto Rico Department of Public Safety, told Mother Jones that the police "are willing to cooperate as always" with the inquiry. She said that other groups at Tuesday's protests had negotiated with police, but the particular group that clashed with police had not. "For [two] hours, they threw big rocks, balls with abrasive liquid content and others towards the police," the spokeswoman said, adding that demonstrators were given a chance to disperse before they cleared the area. "This was a small group and doesn't represent the majority of the people that were marching."
Ramirez said the marchers were only allowed to march as far as a certain point before they were stopped. He says most exit routes were blocked by police, leaving demonstrators essentially trapped. "Hours went by," Ramirez recalls, without any violence before he says police initiated the clash.
Another video posted to Facebook shows police converging on a street in the Santa Rita neighborhood in Rio Piedras, home to the University of Puerto Rico and nearly two miles from the original clash. Residents were upset with the police for arresting people on private property.
A similar protest happened on May Day in 2017. A review of police actions in its wake found their use-of-force reporting and documentation was "grossly inadequate," and failed to follow guidelines established as part of ongoing court-mandated reforms. The report said the police provided a "deceitful response" when asked to provide video of what happened that day, and accused Pesquera of inserting himself into the chain of command without legal authority. Pesquera has denied the accusation, and has in turn accused a federal monitor, Arnaldo Claudio, of improperly interfering with police affairs.
The Puerto Rico Police Department has been operating under a consent decree with the US Department of Justice since 2012 after years of allegations of serious corruption and abuse of the island's residents. The report analyzing the May 1, 2017, police actions notes that before the consent decree was imposed it was "common knowledge that demonstrations and protests…ended in violent responses by the [Puerto Rico police] against the protesters," and noted that a federal review had found "excessive force and pervasive civil rights and liberties violations" during past demonstrations.
"You have a police department that creates the situation that creates these events, and then uses it to go after people that participate in constitutional protest," Ramirez says. He says only a handful of people threw objects at police, and has no objection to police arresting such violent demonstrators. "But they cannot use that as an excuse to stop a multitude of people from protesting and, in fact, go after them and hurt them."