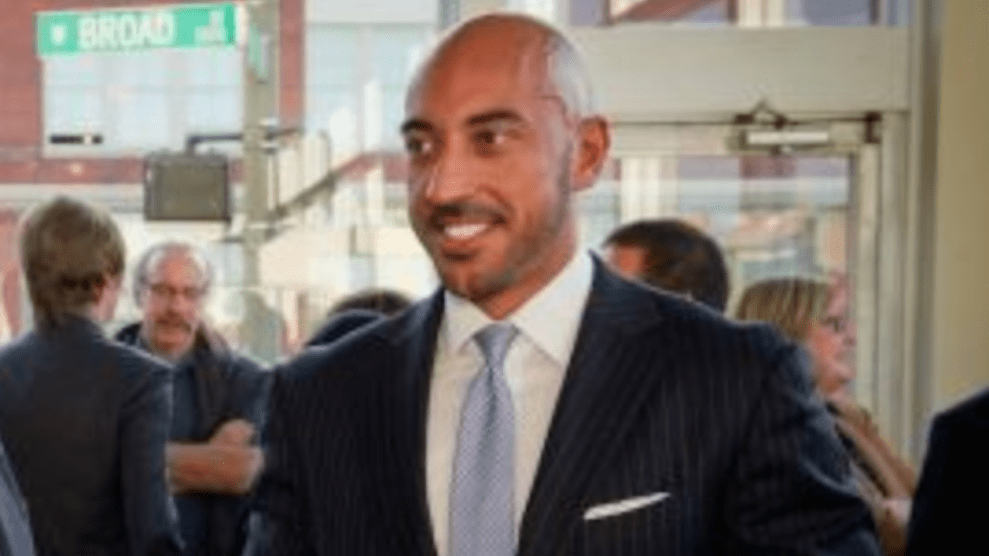 Fight disinformation:
Sign up
for the free
Mother Jones Daily
newsletter and follow the news that matters.
As former Qatari diplomat Ahmed Al-Rumaihi has repeatedly popped up lately in controversies involving associates of President Trump, his representatives and Qatar's embassy have downplayed his connection to Qatar's government, asserting that his work for the state ended in 2017. But a recent court filing by a law firm working for Al-Rumaihi contradicts those claims. The filing, which was cited by lawyers suing Al-Rumaihi and others in federal district court in California, states that Al-Rumaihi currently holds a senior position with the Qatari government. That disclosure raises the question of whether his outreach to influential figures with ties to President Trump, including Steve Bannon and Michael Cohen, may have been part of a Qatari influence campaign.
Al-Rumaihi's interactions with top Trump allies was first revealed in May, when Michael Avenatti, a lawyer for porn star Stormy Daniels, tweeted a picture of Al-Rumaihi with Michael Cohen, Donald Trump's longtime fixer, in Trump Tower in late 2016. In response, Al-Rumaihi claimed that Cohen, then Trump's personal lawyer, had asked him for a $1 million payment in exchange for connecting the Qatar Investment Authority, the sovereign wealth fund where Al-Rumaihi worked at the time, with potential business partners in the United States. Cohen denied seeking such a payment.
On May 26, Republican fundraiser Elliott Broidy sued Al-Rumaihi, accusing him of taking part in a scheme to hack Broidy's email and strategically leak information implicating him in peddling influence with Trump to win business overseas, in particular in the United Arab Emirates, Qatar's rival. Ice Cube also sued Al-Rumaihi over financing for a three-on-three pro-basketball league the rapper and a partner Jeff Kwatinetz, founded. Kwatinetz, who is a friend of Steve Bannon, alleged in a deposition that Al-Rumaihi, who invested in the league, told him in January that Qatar would "underwrite" Bannon's political efforts and bragged about paying off other Washington officials.
Al-Rumaihi worked in Qatar's Ministry of Foreign Affairs from 2007 through 2014, then held a top job with the Qatar Investment Authority, or QIA, until March 2017. His connection to various political figures in Trump's orbit appears to have resulted from his efforts to promote Qatari interests, in part by advertising his ability to disperse investments in the United States.
Both Al-Rumaihi and Qatar's embassy, however, have denied Al-Rumaihi continues to work for his country.
In a statement issued after news of Al-Rumaihi's Trump Tower visit, a Qatari embassy spokesman said that since March 2017, "Al-Rumaihi has not represented the State of Qatar in official matters."
In June, Mother Jones reported on Al-Rumaihi attending a November 2017 Zionist Organization of America dinner, part of Qatar's courtship of influential right-leaning Jews, many of whom later accepted free trips to Doha, Qatar. In a statement regarding the dinner, a spokeswoman for Al-Rumaihi said he did not attend as a Qatari representative or help organize the junkets.
"He denies inviting any person on a state visit to Qatar and in fact could not possibly do so given his role as a private citizen who has not been affiliated with the government of Qatar since March 2017," said the spokeswoman, Cathryn Vaulman, of Kekst and Company, a public relations firm. The firm made similar claims in various public statements. "Mr. Al-Rumaihi is a private citizen and he does not have a role with the government," an Al-Rumaihi spokesperson told Tablet in June.
But lawyers working for Al-Rumaihi in a legal action connected to the basketball league suit say he retains a high-level government job. In a July 31 letter, Angela Agrusa of DLA Piper, who represents Sports Trinity, a firm set up by Al-Rumaihi and other investors in the basketball league, argues Al-Rumaihi should not be required to travel from Qatar to New York for a deposition. Agrusa says the Qatari is too busy to travel due to "continuing governmental commitments as a result of his long diplomatic career and ongoing relations and service to the government."
She writes that Al-Rumaihi did leave the Qatari Investment Authority in 2017, but only to take a more senior position in the Qatari government: "In March 2017, Mr. Al-Rumaihi was appointed [a] member of the Supreme Council for Economic Affairs and Investments," which oversees the Qatar Investment Authority, "and he maintains that position today." Agrusa says that the council, chaired by the country's ruler, or Emir, Sheikh Tamim bin Hamad Al Thani, "is the highest decision making body concerning energy, investment and economic affairs in Qatar" and "assigns funds and approves the budget as well as certain QIA [r]egulations." In addition to those "official commitments," Al-Rumaihi heads two private firms, she notes.
Lawyers for Ice Cube and Kwatinetz say in a motion filed Tuesday in federal court that Agrusa's description "contradicts public statements, and Defendants' representations made in this case, affirmatively stating or implying that Al-Rumaihi is a 'private citizen' and not a government official." The attorneys argue that Al-Rumaihi in fact led "an influence and intelligence operation for Qatar that targeted certain influential American citizens and corporations."
Agrusa, Vaulman and the Qatari Embassy spokesman did not respond to requests for comment.
Read Agrusa's letter:
Read the motion filed by lawyers for Ice Cube and Jeff Kwatinetz: