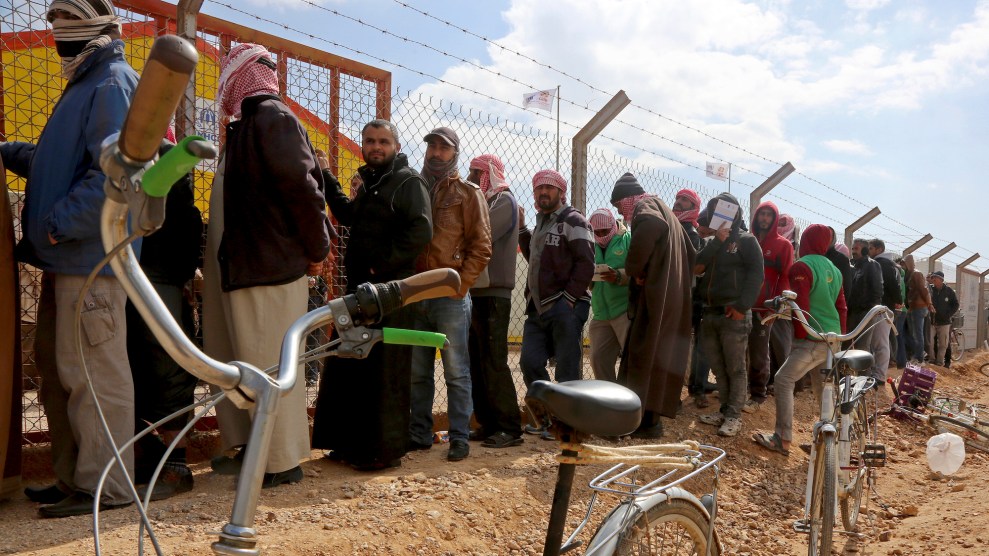 Fight disinformation:
Sign up
for the free
Mother Jones Daily
newsletter and follow the news that matters.
Last year, President Donald Trump cut the annual cap on the number of refugees allowed into the United States to the lowest level on record. This year's 45,000-person limit is less than half the 111,00o-person cap set by Barack Obama in 2016. Now the Trump administration is considering nearly halving the refugee limit again.
The New York Times reports that the Trump administration may set a 25,000-person limit for the 2019 fiscal year. The push to slash refugee admissions is meeting less internal resistance than it did last year. The Times attributes the shift to White House policy adviser Stephen Miller's success in installing anti-immigration hardliners in key positions throughout the administration.
In reality, the number of refugees admitted may be even lower, due to increasingly strict vetting requirements that make it hard for refugees to enter the country. The administration is on pace to admit fewer than half of the 45,000 refugees allowed under the 2018 cap.
The Daily Beast reported last month that the Trump administration was looking to set the 2019 refugee cap between 20,000 and 25,000 people. Barbara Strack, a former DHS official who helped oversee refugee admissions until January, told the Daily Beast, "We've completely abandoned leadership [on refugees] and a commitment to their protection at a time when world needs couldn't be higher."
The Nationalities Service Center, a Philadelphia-based organization that helps resettle refugees, has seen a steep drop in resettlement since Trump took office. Data provided by Margaret O'Sullivan, the group's executive director, show that the NSC resettled 373 refugees in the last seven months of 2016. That dropped to 62 in the last seven months of 2017 and 52 in the first seven months of 2018.
When asked how further reducing the cap would affect refugees and their advocates, O'Sullivan said, "We know what that feel likes because that's where we are now."