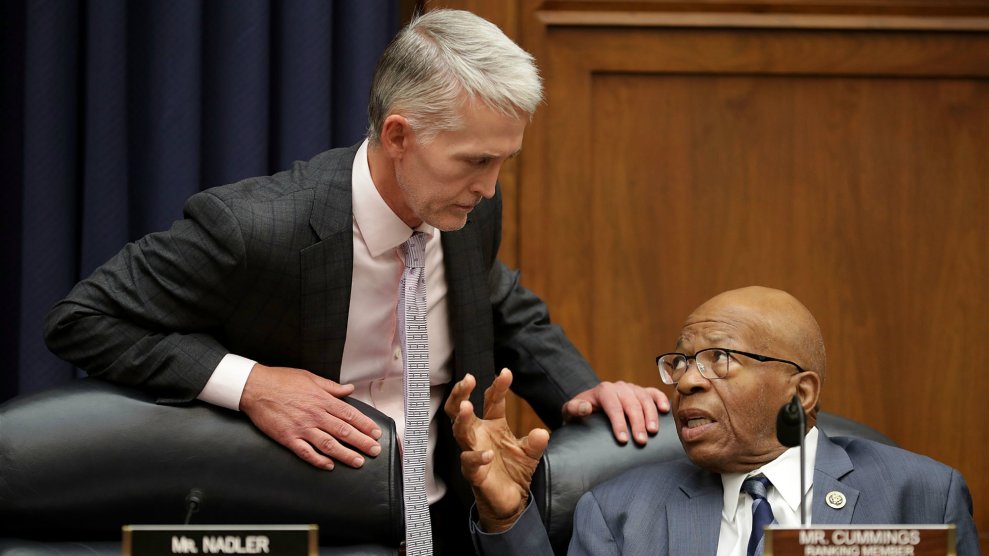 Congressional Democrats' months-long effort to wrangle the head of the Federal Emergency Management Agency before the House Oversight Committee experienced another setback this week as a hearing scheduled for Thursday was postponed amid the preparations for Hurricane Florence's arrival, a Democratic committee staffer confirmed to Mother Jones.
The hearing, titled "Evaluating Federal Disaster Response and Recovery Efforts," was originally set to take place last week and would have included testimony from FEMA Administrator William "Brock" Long, in addition to Maj. Gen. Scott A. Spellmon of the US Army Corps of Engineers and environmental health professor Lynn R. Goldman. Republicans delayed the meeting to this week and ended up canceling it as Hurricane Florence barreled toward the East Coast. The Category 3 storm is expected to make landfall sometime on Thursday or Friday.
"Yes, we really did postpone our hurricane hearing due to the hurricane. Oh the irony," committee communications director Amanda Gonzalez Thompson tweeted.
"Republicans waited a year to finally hold the hearing and now it's hurricane season again, and FEMA is too busy to testify because they are preparing for new hurricanes," the Democratic staffer wrote in an email. Gonzalez Thompson replied in an email, "Since the 2017 hurricane season, the Committee has engaged with FEMA relating to its oversight and investigative work on a near-weekly basis. The Committee has obtained and reviewed over 17,000 pages of additional disaster preparedness and response documents from DoD, DHS, HHS, and PREPA."
In a 20-page report released last week, Democrats acknowledged that Chairman Trey Gowdy (R-S.C.) had acquired thousands of documents from the Department of Homeland Security—which includes FEMA—in addition to the Pentagon and the Department of Health and Human Services, but insisted the total fell short of what they had requested and was significantly less than what former Oversight Chairman Tom Davis (R-Va.) had obtained when investigating the Bush administration's handling of Hurricane Katrina.
Democrats further alleged that they could not conduct proper oversight of the government's role in handling last year's catastrophic hurricane season because Gowdy failed to acquire records from the White House and never held a hearing with the full committee on the subject. Nearly 3,000 Puerto Ricans died because of Hurricane Maria, a storm even FEMA acknowledged in a July post-mortem that it was unprepared to fully handle. A horrific wildfire season in California and concurrent hurricanes that affected Texas and Florida complicated FEMA's efforts to respond in Puerto Rico and exhausted agency resources.
"Over the past year, the Committee has not obtained any emails regarding the hurricanes from top Trump Administration officials, including Secretary of Defense James Mattis, Acting Secretary of Homeland Security Elaine Duke, or FEMA Administrator Brock Long. The Committee also has not obtained any emails between the White House and federal agencies," the report states.
FEMA has adopted a defensive stance this week as agency officials aim to reassure the public that their response to Florence will avoid the mistakes made in Puerto Rico. "I'm confident the response in 2017 was good and I'm confident this response will be good," FEMA Associate Administrator Jeff Byard said at a Tuesday briefing. Trump too has defiantly praised the government's involvement in Puerto Rico last year, calling it an "incredible, unsung success."