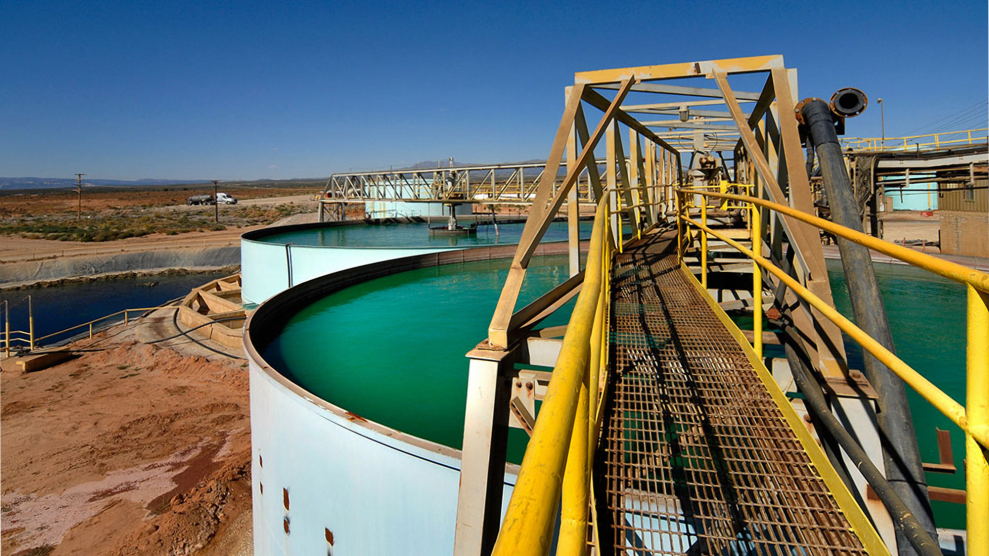 Fight disinformation:
Sign up
for the free
Mother Jones Daily
newsletter and follow the news that matters.
Nancy Kile won't drink water from the tap. Not many people in Crawford, Nebraska do, she says, because they fear the local groundwater is contaminated with uranium. At the Crow Butte Mine, not far from this small town in the northwest corner of the state, uranium was extracted from beneath the earth until recently, in a process that pollutes some of the region's aquifers.
Kile belongs to the Oglala Sioux Tribe, which has spent more than a decade challenging licenses for the Crow Butte Mine. The tribe argues not only that the mining poses health risks to the community, but also that it threatens cultural heritage sites. In June 2018, the mine's owner, Cameco, suspended all US uranium production as the price of the radioactive metal hovered at historic lows. But that didn't end the Oglala Sioux Tribe's fight, because Cameco kept working to expand the mine, in the hopes that it could become profitable again.
Cameco's efforts may soon pay off. By Saturday, President Donald Trump is expected to decide on quotas for domestic uranium production that could send Crow Butte and other "mothballed" mines around the country back into high gear.
Last month, the companies who asked for these quotas said they were "confident" Trump would approve them. As of Friday, Bloomberg and other outlets were reporting that he had decided against quotas, but was weighing other options to boost US mining of uranium. Twenty-six members of Congress signed a letter on Friday pleading with the President to implement uranium quotas or take similar action to protect domestic mining interests.
Cameco is not the only company preparing for a more lucrative market. Ur-Energy and Energy Fuels, two of the country's biggest uranium mining companies, have been expanding their holdings as they led the push for policies that would ease their operations. In January 2018, Ur-Energy and Energy Fuels filed a petition asking the Department of Commerce to investigate whether the United States' heavy reliance on imported uranium constitutes a threat to national security. The DOC completed their report in April of this year, finding that there is in fact a security risk. That risk can be mitigated, according to the DOC recommendations, reported on by Bloomberg, by creating quotas that would require US nuclear energy companies purchase at least 5 percent of their uranium from domestic mines.
The Department of the Interior, which oversees mining permits, issued a similar report in May 2018. The report, ordered by then-Secretary of the Interior Ryan Zinke, named uranium one of thirty-five "critical minerals" essential to the security of the nation.
The uranium mining companies have friends in high places: before Zinke decided to roll back land protections around Bears Ears National Monument, where Energy Fuels has been eyeing uranium deposits, his advisers met with the company's vice president and two of their lobbyists. That lobbying effort was led by Andrew Wheeler, who has since been named head of the Environmental Protection Agency. David Bernhardt, who later replaced Zinke as Secretary of the Interior, is himself a former mining lobbyist.
The President has until July 13 to decide whether or not to impose these quotas, which would significantly increase uranium mining and milling companies' market share and likely raise costs for US nuclear energy producers. The quotas could rise to as much as 25 percent over a period of several years, as the mining companies originally requested.
In response to the administration's claims about national security, experts point out that the United States already has large stockpiles of uranium, and that most nuclear energy producers are in long-term contracts with countries that mine it more cheaply. And while the United States does import uranium from old adversaries like Russia and Kazakhstan, Gabrielle Hecht, a professor of nuclear security at Stanford, points out that over half of imports come from Canada and Australia, close allies that could "easily" fill domestic needs if other countries were to cut off supply. "What I think is really going on here is that these companies want the government to help them compete against foreign companies," Hecht tells Mother Jones. "The appeal to 'national security' is an attempt to deploy a trump card. There's no sense in which uranium supply is a national security issue."
But increasing domestic uranium production would be an issue for the areas surrounding the mines. Pointing to the high rates of cancer that the Navajo still face after decades of uranium mining left their groundwater polluted, Navajo scientist Tommy Rock testified at last month's House Natural Resources Committee hearing about uranium's designation as a "critical mineral." He said that indigenous people "are being ignored" while also being the "most impacted" by uranium.
In anticipation of "an improving uranium market," Ur-Energy has already sought and secured permission from the federal government to double the surface area of its Lost Creek Mine in southern Wyoming, which has operated continuously since 2013. John Rader, an advocate with the Wyoming Outdoor Council, says that the mine's expansion will exacerbate threats to local sage-grouse, a bird species whose population has declined sharply in recent years (though, controversially, it is not listed as endangered). The mine's expansion would disturb an additional 1,400 acres within a government-designated Priority Habitat Management Area.
Rader says the mine's expansion was approved despite the "troubling omission" of "cumulative impacts" in the environmental impact report, though the Bureau of Land Management says it's taking steps to monitor and protect sage-grouse populations. (Ur-Energy did not return requests for comment.)
The impacts of uranium extend far beyond the areas where it is extracted. In southeastern Utah, the White Mesa Mill, owned by Energy Fuels, is one of few remaining places in the country where ore is milled into purified uranium. The facility also gets paid to accept uranium-containing waste from mines and other processing facilities around the country. Over time, uranium decays into radium, which then decays into radon, a gas that the EPA says causes lung cancer.
As early as 1990 and as recently as 2013, the White Mesa Mill's own reports showed that it was emitting more radon than the Clean Air Act allows. Monitors from the Ute Mountain Ute Tribe, which has a reservation just three miles south of the mill, take regular samples that have shown rising levels of heavy metal contaminants in the groundwater beneath the mill, though state regulators say the pollution is coming from elsewhere. Energy Fuels says that the mill is now "well within the regulatory limits for radon emissions," and that there is "no scientific evidence of any negative health impacts to nearby communities."
Residents of White Mesa, on the Ute reservation, report smelling strong chemical odors when winds blow down from the mill. In a 2017 op-ed, Yolanda Badback, a leader in the White Mesa Concerned Community group, said that the mill was "built on top of burial grounds and contaminates the bones of my ancestors." Last year, Energy Fuels applied for a permit to build 80 more acres of waste ponds, which Badback tells Mother Jones would extend the mill all the way to the border of her reservation. She and her relatives no longer hunt or gather herbs around those lands for fear of radioactive contamination. "Our next generation, the young people, are getting sick from this," she claims.
And then there is the Crow Butte Mine, which neighbors Kile's community in Nebraska. In 2017, Cameco dodged a $35,000 fine for spilling toxic sludge on a highway in Utah, which was not its first spill along an interstate route. In the fall of 2018, local geologist Hannan LaGarry testified before the Atomic Safety and Licensing Board that the Crow Butte Mine's proposed expansion could have "irreversible and catastrophic" effects on the region's groundwater. He and other scientists believe that un-mapped faults and porous rock could allow pollutants in nearby aquifers to reach water that Crawford and nearby towns depend on for drinking and agriculture. (Cameco says that the Crow Butte Mine has never contaminated drinking water.)
The evidence may be contested, but residents like Kile remain resolute in their mistrust of mining. "A higher price for uranium helps these global companies. It doesn't help my community at all," says Nancy Kile. "Our future is at stake. The people, the land, the soil…We're way more important than the uranium they can extract."