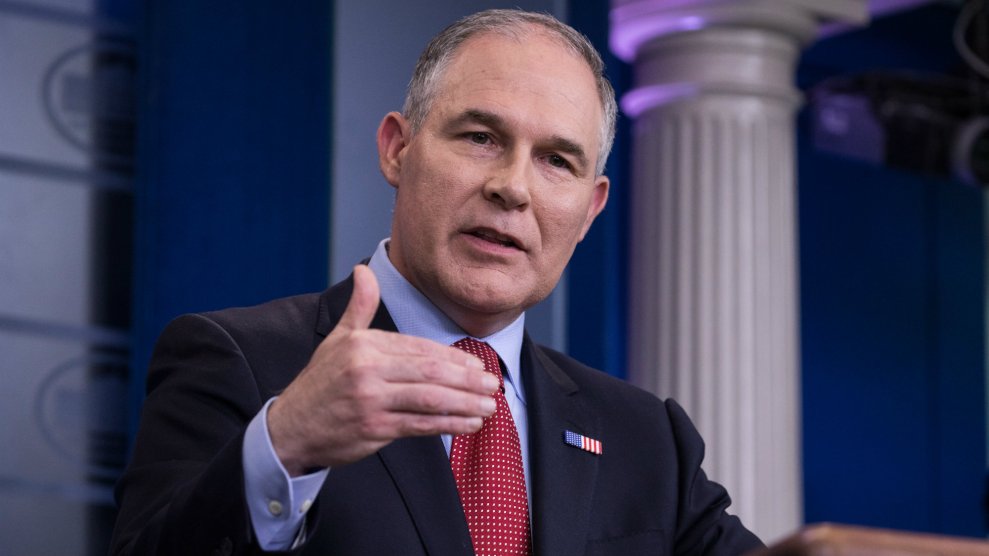 This story was originally published by Fusion and appears here as part of the Climate Desk collaboration.
As the Environmental Protection Agency's administrator, Scott Pruitt has swiftly enacted the decidedly anti-environment agenda he perfected as Oklahoma's attorney general. Rolling back several decades worth of regulations, Pruitt has chosen to prioritize corporate interests over the most basic of safety concerns.
Pruitt, who knows a thing or two about suing the EPA, will now get a taste of his own medicine. Ignoring the EPA's own previous analysis, Pruitt rejected a petition spearheaded by environmental groups to ban a pesticide called chlorpyrifos. Now six states are suing the EPA in response to his decision.
Despite years of research concluding that exposure to chlorpyrifos is harmful to children, even at the lowest levels, Pruitt's decision strongly favored Dow Chemical—the pesticide's manufacturer. Prompted by Pruitt's blatant disregard of health, a "coalition" of several states has sued the EPA, hoping to overturn his denial.
According to the Associated Press, the lawsuit is spearheaded by New York's Attorney General Eric Schneiderman; Massachusetts, Maryland, Vermont, Washington, and the District of Columbia have also joined the effort. In the filing, Schneiderman chastised the administration's endangerment of children.
"Job No. 1 for the EPA should be protecting Americans' wellbeing, especially that of our children. Yet the administration is jeopardizing our kids' health, allowing the use of a toxic pesticide for which it can't even identify a safe level," Schneiderman said.
Chlorpyrifos's toxicity has already been recognized by the EPA. Following
a Columbia University study
that demonstrated a link between newborns who were exposed to the pesticide and significant setbacks to their cognitive development, the EPA released its own findings on the chemical. EPA researchers found that no level of chlorpyrifos was safe in groundwater and it
recommended
"revok[ing] all tolerances for chlorpyrifos."
Why might Pruitt defy the repeated proposals of an agency he now runs? The answer seems quite apparent. The AP's report noted that Dow Chemical spent $13.6 million on lobbying last year and the company's CEO, Andrew Liveris, is a close adviser to President Trump; Liveris also donated $1 million to Trump's inauguration fund.
Pruitt's rejection of a chlorpyrifos ban goes against the American Academy of Pediatrics' recommendation. Last month, the organization said it was "deeply alarmed" by Pruitt's decision. AAP wrote a joint letter with the Environmental Working Group to Pruitt imploring him to reconsider. They wrote, "The risk to infant and children's health and development is unambiguous."