Fight disinformation:
Sign up
for the free
Mother Jones Daily
newsletter and follow the news that matters.
Newt Gingrich canceled his speech at the Southern Republican Leadership Conference in Charleston this morning because, an event spokesman told the crowd, of a "scheduling conflict." The conflict, as best as I could surmise, was that Gingrich had been scheduled to deliver a speech to South Carolina voters, and there weren't any; at the time his remarks were set to begin there were—generously—about two dozen attendees scattered in the bowl of the College of Charleston's basketball arena. There were nearly as many press, and it was difficult to determine which group was more bummed by the whole thing.
Gingrich may not have showed up, but there was still plenty to see at the SRLC. At the National Organization for Marriage (NOM) booth, volunteers handed out pamphlets from the California-based Ruth Institute entitled "77 Non-Religious Reasons to Support Man/Woman Marriage." As it turns out, some of these non-religious reasons are, in fact, religious. Non-religious reason number 73, for instance, warns that "religious organizations of all kinds, potentially including schools, adoption agencies, and marriage prep programs, may be subject to government regulation." Non-religious reason number 76 notes that "the government of Quebec insisted the Mennonites teach that homosexuality is normal to the handful of children in their country schools." Non-religious reason number 46 is actually non-religious, but equally absurd and isn't fixed by banning gay marriage: "Artificial reproductive technology violates the dignity of the child."
Most of the swag is a bit less heady, though. This is a representative example:
That's worth $7, although I wouldn't use it. This, on the other hand, is apparently worth a million dollars. In Guns We Trust?
Here's a painting of Abraham Lincoln, Ronald Reagan, Dwight D. Eisenhower, Richard Nixon, George H.W. Bush, and Gerald Ford all hanging out together. What are they laughing at?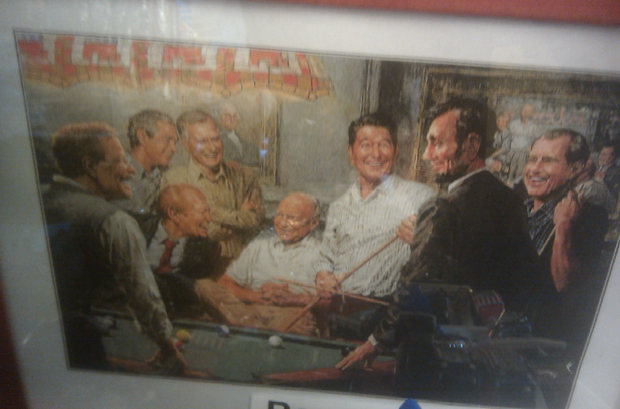 Insert Newt Gingrich-Tiffany's joke here: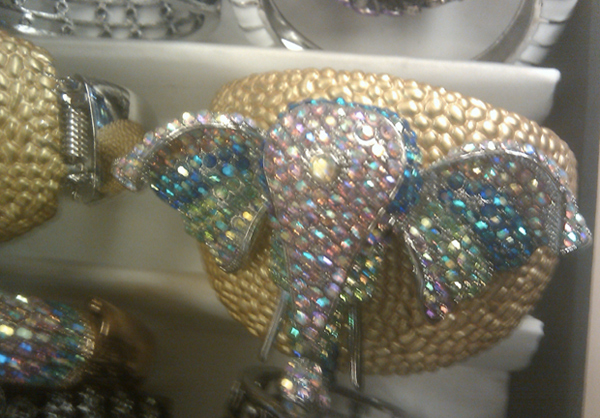 A Tim Tebow football helmet signed by Rick Perry. OK, it's signed by Tebow; bidding opens at $995:
Brother, can you spare a dime for voter suppression?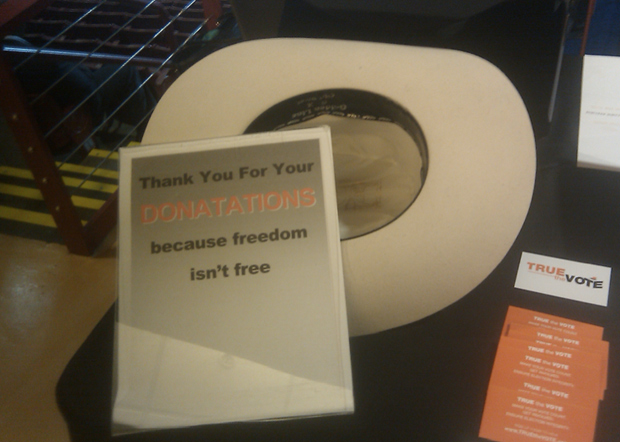 This joke would probably be a lot funnier to people who aren't supporting Newt Gingrich:
"It's Boehner Time" doesn't quite have the same ring to it: