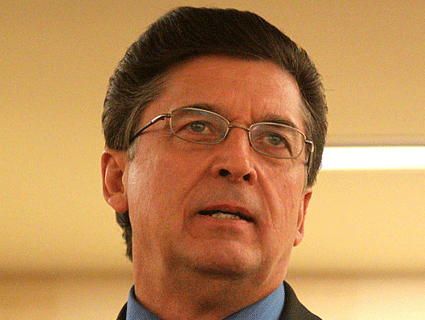 Fight disinformation:
Sign up
for the free
Mother Jones Daily
newsletter and follow the news that matters.
This story has been updated.
When I get on the phone with Richard Mack, better known as "Sheriff Mack"—NRA darling, militia hero, and former sheriff of Graham County, Arizona—he tells me he doesn't personally own that many guns. But he won't say how many: "That's between me and the good Lord."
Mack isn't a hunter, either. For him, the specter of new gun control legislation is all about the Constitution. Which is why he has been leading an all-out crusade to prevent the federal government from taking away your firearms—if they ever were taking away your firearms. The idea is to convince county sheriffs around the nation to refuse to enforce any new gun laws.
Sheriff Mack has been a celebrity amongst anti-federalist militia types and Second Amendmenters for years. In 1994, the NRA recruited him as a plaintiff in one of nine lawsuits against the Clinton administration over the 1993 Brady Law, which required federal background checks on firearms purchasers. "The case was based on the principle that the federal government is not our boss," Mack says. In 1997, the Supreme Court ruled in Mack's favor, finding that federal agents may not force local law enforcement to require those background checks. In appreciation, the NRA made Mack its Law Officer of the Year and inducted him into the NRA Hall of Fame.
Mack has done PR work for Gun Owners of America, a gun lobby that makes the NRA seem moderate, and is on the board of the Oath Keepers (read our profile here), which the Southern Poverty Law Center (SPLC) calls a "Patriot group" made up of vets, military folks, and cops who believe the government is turning on its citizens. They vow to disobey 10 specific (and sometimes fanciful) federal orders that they consider unconstitutional, such as declarations of martial law, the herding of people into concentration camps, and the taking of guns from law-abiding citizens.
Mack also keeps busy on the lecture circuit, speaking to tea party groups about states' rights and gun rights. He has run for both the Senate (in 2006) and the House (last year, winning 15 percent of the vote against Texas incumbent Rep. Lamar Smith). It was the election of President Obama, Mack says, that really got him worried about government overreach. It was bad enough under Bush, what with the Patriot Act and bank bailout, but Obama, he says, has "taken everything to the next level…Most people know his liberal tendencies and Marxist philosophies."
Soon after the election, Mack decided to write a book about the role of sheriffs in protecting the freedoms of Americans against the feds. Its future title, County Sheriff: America's Last Hope, "flashed in front of my vision," he recalls. After it was published, he sent a copy to every sheriff in the country. The book is so short, "you can read it while you eat a donut," he jokes.
The SPLC's Mark Potok says Mack is irrationally worried about "tyranny in next five minutes." But not all of Mack's fears are completely unfounded. (See: "Obama" AND "targeted killing of American citizens.")
In 2011, Mack created the Constitutional Sheriffs and Peace Officers Association (CSPOA). In an echo of the Oath Keepers, its members vow to protect individual liberty and refrain from enforcing "unconstitutional" laws. From the start, the group has been calling up sheriffs and urging them not to enforce gun laws. But now that Obama has announced his recent executive orders on gun control and is pressing for federal legislation, Mack says the calls are incoming.
That, Mack says, is because Obama's proposals fit "the liberal agenda of disarming Americans." He's worried about something he calls "Fabianistic debauchery," which has to do with the slow spread of socialism. "Obama starts talking, saying that he believes in the Second Amendment, but…" he says. "That's all we get from Washington, DC: 'freedom buts.' There's a double meaning there, if you catch my drift."
The CSPOA's list of sheriffs who vow to stand against any new gun control measures now includes more than 250 names. Mack says these include people he has contacted, or who have contacted him—or maybe they have made a public statement "or put something on Facebook." But maybe not all of them are willing to go to the mat on this. "Some are saying 'from my cold dead fingers,'" Mack concedes, but some are more committed than others. This week, CSPOA plans to contact every sheriff in the country to find out where they stand, and then publish the list on its website.
Mack is adamant that he is not advocating violence. "This whole thing is to prevent violence," he says. "I have never recommended to anybody to shoot people coming to get their guns, but I have told people, 'Don't disarm.'"
"He's basically traveling around country encouraging law enforcement everywhere to disobey federal law," counters the SPLC's Potok. "So I guess that's in the eye of the beholder." (The SPLC has previously accused Mack of advocating violence, and later apologized. Mack sued, but the case was thrown out.)
A bunch of rebellious sheriffs may not result in civil war, but experts say the movement could have a significant effect on gun law enforcement. Dennis Kenney, a professor at the John Jay College of Criminal Justice at the City University of New York, says that since local law enforcement doesn't enforce federal laws anyway, a sheriff who refused to do so wouldn't be removed—unless the federal law mandated "applications for local law." In this case, if one or two guys refused to enforce the law, they would probably be fired for dereliction of duty, Kenney says, but "it's highly unlikely that they'd remove all or thousands or hundreds of sheriffs. It would be the ultimate civil disobedience."
Potok worries that the ideas Mack is spreading are dangerous. "These are people who on certain occasions make life and death decisions that affect the rest of us. If they believe the federal government and law enforcement are involved in a devious plot to impose socialistic rule on us, who's to say what comes next? Is the local officer going to cooperate when federal law enforcement comes to deal with some terrorist?"
Mack sees his mission much differently. He's just not going to enforce bad laws. Mack claims that if he had been around in Montgomery, Alabama, in 1955, he would not have arrested Rosa Parks. He would have escorted her home safely. "I would have put the stupid law in the trash and would have walked up to Rosa Parks and said, 'Ma'am, it would be an honor.'" (Mack has previously associated with some racist personalities, but denies that he himself is racist. He says he "doesn't perform background checks" on people he talks to—including "anti-American" Mother Jones.)
Even though he is worried about the direction of this country, Mack is jazzed at the prospect that his movement could be a barrier against the gun confiscation he believes is inevitable. He's been so busy with CSPOA that he works 12 hours a day, he says: "It's just like best of times and the worst of times. This is the greatest opportunity we've ever been faced with to stand for our Constitution, but it's also been the worst abuse of our Constitution."

UPDATE, Friday, February 8: After this story published, I received an email from Sheriff Mack. It is reprinted in full below:
Erika: I have to say for a liberal, it was pretty fair. There were no obvious distortions and that is unusual! I thank you for an honest piece. May we be blessed with peace, that's all I am after, for you and me!
Anyway, if I am ever out your way I'd like to sit down and talk, maybe over lunch or coffee. I find your approach very honest. I only did not like all the space you gave SPLC. They do lie! They specialize in it!
Another thing about me, as a former undercover cop, I hate the drug war! Maybe another story for another day.
In freedom,
Sheriff