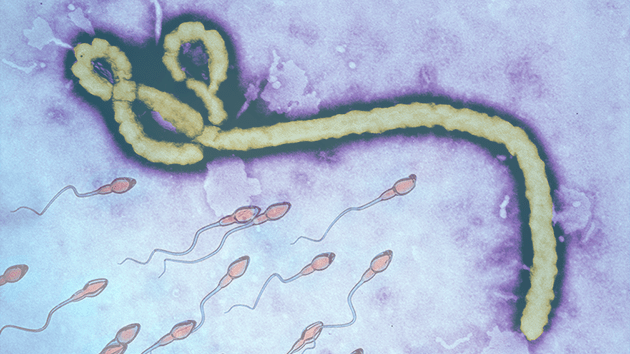 Fight disinformation:
Sign up
for the free
Mother Jones Daily
newsletter and follow the news that matters.
Survivors of Ebola often face stigma and fear from community members who worry they might spread the disease after leaving the hospital. These fears are almost entirely misplaced. Once someone has recovered from the virus, they cannot infect others through handshakes, hugs, or kisses. Their sweat isn't contagious. Even the vomit, urine, and feces of the disease's survivors has been shown to be Ebola free.
There are, however, a couple important exceptions. In particular, research into past outbreaks shows that the semen of survivors may carry the virus for weeks, or even months, after they recover.
For instance, a 1977 study of an outbreak in what is now the Democratic Republic of Congo found Ebola in the semen of one survivor 61 days after the onset of his disease. And a 1999 study found the virus in an Ebola survivor's semen 82 days after he first became ill. That study recommended that survivors use condoms for "at least" three months after contracting the disease.
A separate 1999 study, backed by the Centers for Disease Control, identified one woman who tested positive for Ebola but never developed symptoms. The researchers concluded that it was unclear if she ever actually contracted the virus, but that it was "possible" that she was infected by a recovered Ebola patient via his semen.
In a statement issued Monday, the World Health Organization echoed these findings, warning that Ebola "can persist in [survivors'] semen for at least 70 days" and that some research even "suggests persistence for more than 90 days."
The sample sizes for these studies are extremely small, and it's unclear just how great a risk the semen of surviving men poses in the weeks following their illness. Still, officials from the Centers for Disease Control and Prevention have recommended that they use condoms. And Doctors Without Borders—which has been on the front lines of the current outbreak since its early stages—is distributing condoms to survivors, according to a spokesperson for the group.
Speaking at a United Nations office in Liberia earlier this month, an epidemiologist and WHO consultant from Uganda—a nation that saw its own Ebola outbreak as recently as 2013—said that sexual transmission could make the disease harder to contain. He criticized public health officials for not doing enough to encourage the use of condoms.
And Semen may not be the only bodily fluid through which a patient recovering from Ebola could pass on the disease. In 2000, researchers tested the fluids of a female Ebola survivor whose blood was already clear of the virus. Fifteen days after first falling ill, Ebola was still found in the woman's breast milk. Her child eventually died of Ebola, though the researchers could not be certain the child got sick from feeding.
"At any rate," wrote the researchers, "it seems prudent to advise breastfeeding mothers who survive [Ebola] to avoid breastfeeding for at least some weeks after recovery."