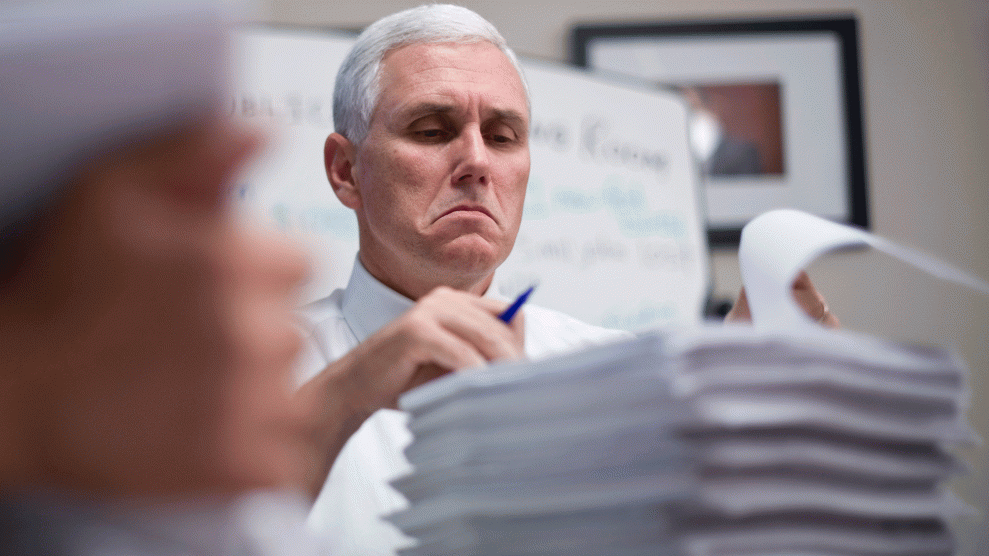 Fight disinformation:
Sign up
for the free
Mother Jones Daily
newsletter and follow the news that matters.
Donald Trump campaigned on a promise to repeal Obamacare promptly after taking office, but he's been vague about what, if anything, he might replace the Affordable Care Act with. Fortunately, states under Republican control have already provided a good preview of what a GOP replacement of Obamacare might look like. And if they're any indication, Trumpcare is likely to be more expensive and more complicated than the current system, while covering fewer people and micromanaging them more.
Trump's website offers vague notions about creating a more "patient-centered healthcare system" and giving the states more control over its regulation. The latter promise echoes a trend over the past couple of years in Republican-controlled states, which have agreed to expand Medicaid coverage under the Affordable Care Act only if they gained leeway to implement it in accordance with their conservative principles. The Obama administration agreed to many of these changes to give more people access to health care. Those state expansion plans now offer one of the best looks at what Trump and a Republican Congress might have in store for Obamacare.
When the Affordable Care Act became law in 2010, it expanded Medicaid, the government insurance plan for low-income people, to cover people earning up to 138 percent of the poverty line. Most of the more than 20 million people who have gained health insurance since then got their new coverage from Medicaid. The Medicaid expansion has saved some Republican-run states more than $100 million a year, and so Republican governors such as Michigan's Rick Snyder and Arkansas' Asa Hutchinson have spoken out in favor of it.
As a result, any Trumpcare proposal is likely to keep the Medicaid expansion, while allowing states to shape it to their own policy objectives, replicating the adaptations that Republican-controlled states have already made. The party of smaller government has made an art of designing expensive, complicated, and intrusively bureaucratic health care programs under the guise of promoting personal responsibility.
Perhaps the best example comes from Indiana, under the leadership of Gov. Mike Pence, now the vice president-elect. Healthy Indiana Plan 2.0 (HIP 2.0) was designed to force low-income people to put some "skin in the game," by requiring them to contribute their own money to the plan as a way of deterring them from using too many unnecessary health care services. To that end, the program has a bewildering array of at least six different benefit levels and cost-sharing requirements. It's so complicated Pence himself had trouble explaining it in a speech at the conservative American Enterprise Institute two years ago, where he admitted to confusing people in the audience before referring them to the state website for more information.
At the core of HIP 2.0 is a Personal Wellness and Responsibility (awkwardly mashed into the acronym POWER) account that resembles a health savings account and is one reform idea Trump has endorsed. It provides recipients with a $2,500 health care account, paid for by the state and Medicaid enrollees' premiums. When the money runs out, a high-deductible insurance plan kicks in. If recipients engage in preventive care, the amount of money they can roll over from one year to the next goes up. The setup is supposed to encourage beneficiaries to limit their health care usage while taking personal responsibility for their health.
So far, though, the incentive program doesn't seem to be working especially well, mainly because most people in the plan have no idea what it is. A recent evaluation of the program found that at least 60 percent of the people surveyed who had a POWER account had never heard of it, and of those who had, many didn't understand how it worked. The survey mirrored similar research in Iowa and Michigan, where Republicans had tried to force behavioral changes on Medicaid recipients through complex incentive plans. Research shows that simply giving people insurance in traditional Medicaid will increase the number of people who use preventive care, without the need for incentives.
"There's this assumption that these people are not worthy and therefore we're going to make arbitrary hoops for them to jump through so we can punish them when they fail to jump through them."
HIP 2.0 charges premiums of up to 2 percent of a recipient's monthly household income and imposes co-pays for some services. But those premiums do little to cover the costs of the program. "Premiums are not generating revenue for states," explains Andrea Callow, a senior policy analyst at the nonprofit advocacy group Families USA. She says that health savings accounts are more expensive to administer than traditional Medicaid, whose overhead costs are quite low. And while there isn't good public data on the Indiana plan, other states have found that the cost of collecting Medicaid premiums usually far exceeds the revenue taken in from consumers. Callow has calculated that Arkansas would spend more than $15 for every dollar it collected in contributions to Medicaid health savings accounts. The Michigan Medicaid expansion, with features similar to Indiana's, cost $20 million a year to administer.
The premiums do serve another function: They depress enrollment in Medicaid. That phenomenon has been well documented in other states and now also in Indiana. About a third of people in Indiana who apply for HIP 2.0 and are found eligible ultimately don't get insured because they fail to pay the first premiums. People who don't pay premiums while in the program can be dropped and then blocked from reenrolling for six months. About 6 percent of the people who were in the expansion group and above the poverty line were dropped from the program during the first year for lack of payment.
"There's this assumption that these people are not worthy and therefore we're going to make arbitrary hoops for them to jump through so we can punish them when they fail to jump through them," says Leo Cuello, director of health policy at the National Health Law Program, a nonprofit that advocates for the health care rights of low-income people. "We're lawyers and analysts and we can't figure [these programs] out."
The result has been that while many more people in Indiana are getting insurance coverage through the Medicaid expansion than before Obamacare, a smaller percentage of Indiana residents have been covered than in states that expanded Medicaid without trying to micromanage people's behavior through complex administrative schemes. (Indiana's uninsured rate is more than 9 percent, compared with 6 percent in Kentucky, which expanded Medicaid under a Democratic governor without any restrictions.) But that could be by design.
Under its new Republican governor, Kentucky has proposed changing its wildly successful Medicaid expansion program to match Indiana's. In its application to the US Department of Health and Human Services for a waiver from some of the Affordable Care Act requirements for expanding Medicaid, the state indicated it would save $2.2 billion over five years if it adopted the Indiana model. According to the state, most of those savings would come from people dropping out of the program because they couldn't manage the premiums and complexity—18,000 people in just the first year.
Other states, including Arizona, Ohio, and Pennsylvania, have asked the Obama administration for a laundry list of conservative changes to Medicaid along with those secured by Indiana in exchange for expanding Medicaid under Obamacare. These requests include the types of provisions that were incorporated into the welfare reform law in the 1990s, such as work requirements and lifetime limits on benefits. The Obama administration has rejected most of those requests because the measures were unnecessarily punitive or simply violated the basic purpose of the Medicaid law, which is to give people insurance.
A Trump administration could change all that. In doing so, it could effectively put an end to a big chunk of Obamacare without having to suffer the political consequences of dumping 15 million people off their insurance plan. It's the health care version of self-deportation: Create enough hurdles to enrollment, and most people will drop out of the insurance program all on their own.